Reviews
Tag | 2015 Fantasia Film Festival Review
Female of the Species: Sono's Pseudo-Allegory Reifies the Male Gaze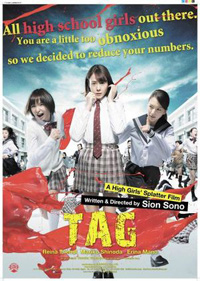 Superficially, there's not too much new on hand in Sion Sono's Tag, credited as the third of a whopping six features due out in 2015, each to most likely be juggled around the film festival circuit before a little luck sees them reach theatrical release next year thanks to the auteur's continually growing cult audience (it's fair to say he's browbeating the output of native prolific provocateur, Takashi Miike). This latest lands somewhere on the more bizarro end of Sono's eclectic spectrum, though is nowhere near as gonzo, batshit crazy as Why Don't You Play in Hell? (2013) or last year's gangster musical Tokyo Tribe. However, neither is this on par with the director's more sterling titles, like the magnum opus Love Exposure (2008), the first chapter of his daunting "Hate" trilogy. Instead, this strange hybrid of fetishized violence and female empowered allegory contends with the inherent misogyny of its own parameters, though hardly offers much by way of realistic solutions.
Tag begins in traditional Sono fashion, a group of overly exuberant Japanese schoolgirls giggle, sing, and unabashedly pillow fight on a bus flying through the countryside. We hone in on the precocious Mitsuko (Reina Trendl), writing poetry while the other girls scream in jubilee around her. Suddenly, what we come to understand is a malicious, evil gust of wind (not unlike those blustery bursts from M. Night Shyamalan's The Happening, 2008) decapitate all the girls on the bus as it slices the vehicle horizontally in half.
Fleeing from the wind forever at her back, a handful of others die in similar fashion before she somehow ends up at school where all her classmates know her but she remembers nothing. As she grows close awfully fast with a sympathetic schoolmate, her reverie is broken when two female teachers suddenly open fire on the students, and again Mitsuko is on the run. Next, she wakes up as a twenty five year old named Keiko (Mariko Shinoda), about to be married, but in a ceremony that quickly devolves into something grotesque, with a groom wearing an ominous animal mask. She wakes up again as a marathon runner, Izumi (Erina Mano), soon chased by the wind and the gun-wielding teachers from previous segments.
In the tradition of ultra-violent Japanese Grand Guignol, Tag feels awfully similar in its depiction of riotous violence as countless other films of its ilk. Its opening sequence, in particular, is reminiscent of how Sono's 2001 The Suicide Club opens. Limbs blown off, spraying blood, and an endless parade of screaming victims lends the film the sheen of cartoonish, manga violence, even though the source inspiration is a 2001 novel Yusuke Yamada. Reportedly, Sono has taken liberties with this adaptation, morphing its content to transpire in a world of almost entirely female inhabitants, with its main protagonist learning the mechanism that is the key to the endless cycle of violence she's subjected to. As such, Tag does manage to convey an interesting metaphor as pertaining to the violent, misogynistic depiction of women in genre cinema and beyond, but only in the sense it highlights these situations as problematic in the first place. Sono devilishly plays with familiar tropes of men directing expendable female characters, including the obvious leanings toward the lesbian tension in one of the film's strands.
It would be unfair to reveal what exactly is going on in Tag, for if you sit through its slim running time long enough, you'll find an intriguing concept at play, even though the film's monotony kills the energy before we get there.
Reviewed on August 3 at the 2015 Fantasia Film Festival. 85 Mins.
★★★/☆☆☆☆☆