Brother's Keeper: Pront's Squalid Crime Thriller a Promising Debut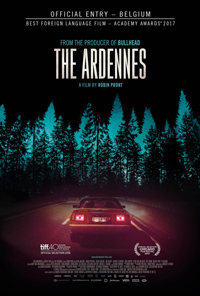 Although we've seen certain tropes and characterizations aplenty, such as any number of disenfranchised families struggling to pull themselves out of criminality to pursue law abiding lives despite crippling odds, there's definitely an art to delivering enjoyable narratives such as this despite accusations of familiarity. Belgian director Robin Pront succeeds with gritty B-grade finesse for his entertaining, if ultimately unsurprising debut The Ardennes. Featuring a variety of notable Belgian and Dutch actors from producer Bart Van Langendonck (whose 2011 project Bullhead was a major international coup for not just Belgian cinema, but made names out of actor Matthias Schoenaerts and director Michael R. Roskam, who also pops up as producer here), this saga of two thieving brothers united after one gets out of prison for taking the rap of a joint burglary gone awry features some of the same elements, underscored with a particularly menacing mixture of misogyny born homoeroticism. Chilly and brooding, Pront and screenwriter Jeroen Perceval (who also gives himself the role as the film's sympathetic protagonist), make us wait for the third act before the film bares its nasty teeth, but proves to be well worth the anticipation.
When Dave (Perceval) and his younger brother Kenny (Kevin Janssens) bungle a home robbery, only one of them is apprehended. Rather than ratting his brother or girlfriend Sylvie (Veerle Baetens) out to the cops, Kenny takes complete blame and serves a four year prison sentence. While he's away, Sylvie grows close to Dave, who decides to clean up his act and lead a law abiding life with his new gal. Just as they discover they're pregnant, hot headed Kenny gets out of prison, eager to start up where he left off. Nonplussed to fine Sylvie has grown cold and distant (and wondering why she stopped visiting him in the slammer), he wrongly assumes she has begun seeing her boss at the nightclub where she works. Killing the man in a fight, Kenny begs Dave to come with him to the Ardennes, where his old prison roommate Stef (Jan Bijovet) resides, and who has particular skills with these exact kinds of situations.
Perceval is one of several recognizable faces amongst the cast, having starred alongside co-star Jan Bijovet in Alex Van Warmerdam's excellent 2013 Dutch feature, Borgman (a title which also elevated the visibility of its country's native film industry). Looking extremely weatherworn thanks to some distinctive make-up and lighting choices, Veerle Baetens stars as reluctant femme fatale cum ex-addict, a performer best known for her tragic characterization in Felix Van Groeningen's 2013 film The Broken Circle Breakdown. Here, she's merely a free-floating object in swamp of squalor, clutching her lap dog at a tense Christmas dinner reunion where her glowering ex-convict ex-boyfriend has no idea she's shacked up with his brother, providing the roux for the beginnings of a wonderful Country Western song. And then there's Sam Louwyck (of Koen Mortier's Ex-Drummer and Roskam's Bullhead), appearing as the drag queen lover of Bijovet's trailer park butcher in what has to be one of his strangest on-screen appearances to date.
Bijovet scores some unsettling moments as a man who proclaims his distaste for the manipulative tendencies of women drove him to (a rather enthusiastic) state of homosexuality, and a diatribe about the mating tendencies of cranes comes across as a bit belabored despite the actor's ability. His murky relationship with Kenny, and just how close they were in prison, breathes a whole lot of anxious energy into the atmosphere of The Ardennes. The fraught relationship between Sylvie and the two brothers speaks for itself, even when Pront reveals several twists and turns meant to heighten the dramatic tension.
Stylistically, The Ardennes resembles the chilliness envisioned in many a Nordic Noir, and DP Robrecht Heyvaert makes the home life and self-help group interiors pale in comparison to the vibrant allure of a jolting night club, where crime and pleasure are one in the same. Likewise, the titular exteriors of the brothers' youthful memory turned crime scene is a wasteland of gutted trailers and smoky daytime bars inhabited by shifty, out-of-focus characters.
Composer Hendryk Willemyns provides a fitting score, but several choice song selections, including a closing credit sequence utilizing a 2014 electro track from Flesh & Bone makes the film feel like a throwback to something made a decade earlier (which is meant to be a compliment).
★★★½/☆☆☆☆☆