The Breaker Upperers | 2018 SXSW Film Festival Review
Conscious Coupling: Modern Day "Womance" via Kiwi Duo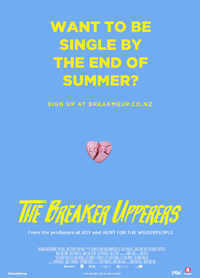 Yes, there is an extra syllable in the Breaker Upperers, a title imbued with the fumblings of contemporary New Zealand comedy. Though it would be unfair to call Madeleine Sami and Jackie van Beek the female version of The Flight of the Concords—they exude a distinct pizazz that reverberates throughout this winning buddy comedy. Just as I Love You Man flipped the rom-com formula with platonic male leads, so does The Breaker Upperers employ familiar tropes in creating a will-they-won't-they 'Wo'-mance, whose wild premise is grounded in relatable relationship tensions. Comparisons to Broad City or even Sandra Bullock and Melissa McCarthy seem apt.
Melanie (Sami) and Jen (van Beek) are entrepreneurs who run a business that helps you break up with your significant other. When coming up with the idea, Van Beek wanted to take an event that is typically sad and make it funny by outsourcing it. A montage of these various missions proves that, yes, in fact it can be very humorous, so long as you're not the one getting dumped. But Mel and Jen have problems of their own. In the film's best scene, Jen's wealthy parents encourage her to have a child before it's too late, recommending in-vitro fertilization with her own brother's sperm. "Ew no, that's incest," she declares, when her mother responds, "not if we put it in Mel." Depicting Jen and Mel as a couple is a recurring joke in the film, and they're relationship is tested when a young rugby player (James Rollston) and new client takes a liking to 'Melon'—his cute nickname for Melanie.
There's a fun sequence where Jen imagines herself in a corny Karaoke video. The filmmakers expertly utilize this daydream to reveal crucial backstory. Various supporting characters are given time to shine, such as a depressed woman on the wrong end of a breakup, and a shy intern who has trouble remembering her lines. These stuttering side characters add color to the New Zealand backdrop. One of the film's strengths is the large pool of local collaborators that Sami and van Beek pull from, including producer Taika Waititi.
As expected there is a fight, followed by a declaration of love surrounded by a room of onlookers in a finale dance sequence that had the audience roaring. The cast's energy is infectious, more comparable to Tiffany Haddish than Jermaine Clement (who makes a small cameo). But it's also a more sensitive movie than most of the women-led comedies these days, perhaps because it focuses on their relationship rather than on one crazy bachelorette weekend. Sami and van Beek retain the specificity of New Zealand, but the film's universality should resonate across the globe.
Reviewed on March 12th at the 2018 SXSW Film Festival – Narrative Spotlight. 81 Mins.
★★★/☆☆☆☆☆