Reviews
The Fate of the Furious | Review
Fated Attraction: Gray Delivers the Expected in Mind Numbing Franchise Entry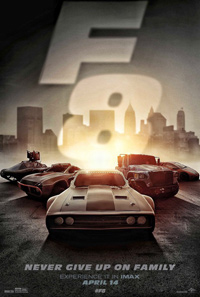 Following the box office success of 2015's Straight Outta Compton, his most relevant in film in the twenty years since 90's classics Friday (1995) and Set It Off (1996), director F. Gary Gray contributes to the unyielding Fast and the Furious franchise with the saga's eighth installment, The Fate of the Furious. A series which has proven impervious to critical reception since Rob Cohen's debut film in 2001, this will be the first revolution on the merry-go-round (except for 2006's Tokyo Drift, when the property was in a slump) not to feature original cast member Paul Walker. What this allows for in the two hour plus running time is some enhanced screen time for fresh blood.
In fact, since the franchise was taken over by Justin Lin with the third film, the series has begun to depend significantly on more high profile supporting casts, which kicked off with the return of Vin Diesel for 2009's Fast & Furious, and then began plucking headliners from other franchises, such as Dwayne Johnson (first appearing in 2011's Fast Five), and then Jason Statham (Fast & Furious 6, 2013). Gray goes further than the others by assembling notable icons (a returning Kurt Russell from Furious 7) and Oscar winners (Charlize Theron, Helen Mirren) and cutting down significantly on screen time for some of the mainstays (Tyrese Gibson, Ludacris). This time around, the recycled roundelay features Diesel and crew of reckless drivers finding their cemented notion of family tested to the extreme when a super hacker pits their fearless leader against them.
On their honeymoon in Cuba, Dom (Vin Diesel) and Letty (Michelle Rodriguez) find their idyll dismantled by the presence of a notorious computer hacker known as Cipher (Charlize Theron). Having abducted Elena (Elsa Pataky) and the infant son Dom never knew he had, the grizzled hero has no choice but do the heartless woman's bidding. When Hobbs (Dwayne Johnson) is ordered to assemble his usual suspects to secure an EMD in Berlin, Cipher forces Dom to seize the nuclear device and go rogue. As his bewildered team is left to ponder what happened, Hobbs is left to contend with the legal fallout, requiring the assistance of Mr. Nobody (Kurt Russell) and his new protégé (Scott Eastwood). Upon discovering he is under the control of Cipher, though for reasons unknown to them, his friends and wife wrestle with the possibility of having to kill their comrade after he also successfully extracts the nuclear codes to activate the weapon. Mr. Nobody calls in Hobbs' nemesis Deckard (Jason Statham) to help track Dom, while the reluctant terrorist himself has an ace up his sleeve.
There's a fun drinking game waiting to be applied to The Fate of the Furious regarding Chris Morgan's screenplay and the obnoxious, woefully contradictory message about the importance of 'family,' a motif already heavily and sappily explored in previous chapters. Except, the ragtag crew under Dom's tutelage has always been proud of their makeshift 'chosen' family, while the message at the heart of F8 proves blood ties apparently trump all else, which is supposedly why Dom so illogically abandons the love of his life without a word to swoop in and rescue a son he never knew he had with a woman no longer on his mind, meanwhile endangering the lives of all he supposedly seems to cherish.
'Family,' then, isn't about the people you choose to love, but the biologically predetermined stamp which demands acquiescence and sacrifice of all (including common sense, something which has never been a basic requirement for anyone or anything in this particular franchise). But who cares, really? Gray, at least doing a better job steering this sequel than the woefully inept Be Cool (2003), the ill-conceived sequel to 1995's Get Shorty, pays no mind to narrative bloat rife with glaring plot holes. Knowing what his audience wants to see, there are plenty of slick, well-choreographed chase sequences—even a risibly nonsensical drag race through the narrow, cobbled Cuban streets in the opening, which ends in a hellish crescendo only a superhero (or, in this case, Diesel's Dom Toretto) could survive, is at least polished.
Mirren is entertaining in her brief sequences utilizing a Cockney accent (although mostly chirping about the same familial motivations everyone else is equally stuck on), while Kurt Russell is wasted in a handful of sequences setting up his new partner (Scott Eastwood in yet another sub-Baxter role, much like Suicide Squad) as the punchline for minor horseplay with Gibson's Roman (who, along with Ludacris and their shared sexual attraction to Nathalie Emmanuel, feel like those guests at a party who don't realize they've stayed too late for the host's comfort).
In fact, those who have starred in prior films of F. Gary Gray's seem to have all the choice material, such as the usually charming Dwayne Johnson (from Be Cool, 2005), Vin Diesel (from A Man Apart, 2003), and Furiosa herself, Charlize Theron (from Gray's Mini Cooper redo of The Italian Job, 2003).
Theron knows camp when she sees it (laughably, her character is described as a digital God), and those who cherish the actor in this mode will appreciate how she deftly shoulders the silliness of the script (including a wicked kissy kissy scene with Diesel). However, despite being decked out with the Gary Oldman True Romance hairdo, this is the same ice-cold villainy as Theron's Ravenna from the Snow White films or even her Meredith Vickers of Prometheus (2012).
Again, no matter the critical reception of The Fate of the Furious, we can most likely expect to see several more sequels before audience interest begins to idle. Of course, considerable time was spent orchestrating a few choice car chase sequences, and Gray's team does not disappoint on the sheer level of bombast. If recent current events grant the film's nuclear talk an anxiety laden edge, (replete with the frozen tundra of Russia for the predictably explosive finale), Theron's supposed motivations for nuclear dominion are about as hoary as any vaguely attenuated Bond villain.
On the positive end of things, at least this isn't property being cross-pollinated with the glut of super-hero films. But at the same time, somebody is going to have to write something better for these folks who go driving in their fast cars and obsess about the priceless nature of family (even if their definition of what it means fluctuates from time to time).
★★/☆☆☆☆☆