Spoofaway Camp: Strauss-Schulson's Playful Mash-up Takes a Tumble On You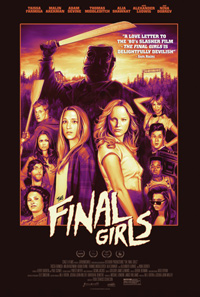 Director Todd Strauss-Schulson, whose last feature was A Very Harold & Kumar 3D Christmas (2011) returns with The Final Girls, an entertaining surprise of sorts as a playful riff on early 80s slasher tropes as it borrows the cosmic charms at play in classic titles like Woody Allen's The Purple Rose of Cairo (1984) and The Wizard of Oz (1939).
With a talented young cast and plenty of boisterous energy, Strauss-Schulson manages to instill a thread of sentimentality in this generally comedic feature, and ironically makes us care more for its characters than the films it pays homage to actually manage. Those looking for genre thrills will most likely be disappointed, and its eventual outcome is a bit too hoary despite its enjoyable cuteness from screenwriters M.A. Fortin and Joshua John Miller (the team who wrote Rose McGowan's 2014 short film Dawn, though the latter was a child actor in late 80s cult items like Near Dark and River's Edge).
Max (Taissa Farmiga) is the daughter of 1980s Scream Queen Amanda Cartwright (Malin Akerman) thanks to mom's role in horror classic Camp Bloodbath, which bears more than a few similarities to the Friday the 13th films. However, a tragedy claimed the life of Max's mom much too soon. As time goes by, the fanfare surrounding her mother's signature film doesn't die away, and the step-brother (Thomas Middleditch) of her best friend (Alia Shawkat) begs her to attend an anniversary screening of her mother's film at the local theater. Reluctant to attend, Max shows up anyhow, delighted to see that Chris (Alexander Ludwig), the cute guy from school who's been tutoring her in memorizing Greek mythology for a shared class, has taken it upon himself to appear in the form of moral support. Unfortunately, Chris' ex Vicki (Nina Dobrev), who used to be Max's BFF, shows up as well. But when a freak fire causes chaos at the packed screening, their escape is thwarted and the five characters find themselves waking up in the midst of the Camp Bloodbath world as if it were a parallel, self-contained universe.
Lovers of these horror summer camp spoofs should appreciate The Final Girls, which exudes the same cute self-awareness as Jerome Sable's equally ripe 2014 farce, Stage Fright, in which another maternal figure's iconicity solidifies the fate of her malcontented progeny. The title is a nod to the Carol J. Clover coined terminology specific to the popularized tropes in a particular subgenre of horror films, one of several over utilized motifs which ran multiple franchises into the cold, hard ground, from Halloween and Friday the 13th, to Wes Craven babies A Nightmare on Elm Street and later his Scream quadrilogy.
Most of the supporting cast members, though more fully realized than the usual carnage fodder in these films, are still prey to their own stereotypes, like the self-consumed and beautiful Vicki, played by Nina Dobrev or Alia Shawkat as the edgy but sincere best friend (she gets a much stronger presence as an imperiled woman amongst a group of hipsters in Jeremy Saulnier's excellent Green Room), and Alexander Ludwig as the refreshingly well-rounded and empathetic romantic lead.
Thomas Middleditch gets to play another approximation of the obnoxious uber nerd, which grows tiresome quickly. Taissa Farmiga, sister of Vera, has fostered an increasingly impressive indie filmography since debuting in the elder Farmiga's film Higher Ground (2011). What sets The Final Girls apart from many a spoof is the rather touching and bizarre formulation of a grieving daughter given the chance to reunite with her mother a la Peggy Sue Got Married type of whimsy.
The sometimes underwhelming Malin Akerman (who is effective as an actress a bit too old to be a teenager and a woman just a bit too young to play Farmiga's mother) is surprisingly effective here, with two saddening sequences set to the melancholy tones of Kim Carnes' classic Bette Davis Eyes. Sure to be a standout on DoP Elie Smolkin's resume, there are a handful of visually striking sequences, such as the Aztec masked killer approaching Akerman via long shot as manufactured lightning grazes a bruised sky, notable because it all equates to an overall impressive and undiscerning package.
★★★/☆☆☆☆☆