Feels Like Rehearsed Time: Kasdan Explores First Love For Second Film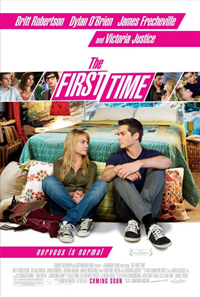 Jonathan Kasdan, also a director like brother Jake and father Lawrence, attempts to give us one of life's most memorable experiences with his second feature, The First Time, which is all about the first time we fall in love, here told in the standard heterosexual vein. However, Kasdan's little love birds get a double whammy, falling not only in love for the first time, but also, having sex for the first time. Well, isn't that special.
Reciting unrequited words of love to himself in a dark alley outside of a high school party, Dave Hodgman (Dylan O'Brien) is interrupted by Aubrey Miller (Britt Robertson), who inquires what he's doing. Her friends, who she barely knows, are whoring it up inside. His might be too. Dave confesses that he's been dying to get with the girl of his dreams, Jane Harmon (Victoria Justice), and tell her that he loves her, but she's hanging out with some studly guy. Aubrey knows the guy, even though she goes to a different school and is a junior. She also happens to be dating an older fellow. Dave's a senior, and time is running out for him to announce his passion.
As cops bust up the party, Dave walks Aubrey home, who invites him into her bedroom where they drink wine and fall asleep cuddling. Waking up late, Dave is forced to jump off the roof to avoid Aubrey's parents (Christine Taylor and Joshua Malina), but he realizes he didn't get her number. Relating the incident excitedly to his best pals, Simon Daldry (Craig Roberts) and Big Corporation (Lamarcus Tinker), Dave convinces them to help him get her home phone number. Aubrey is awkward when Dave calls her, but it turns out they're both going to the movies that night, he with his friends, while she's attending with the melancholy Ronny (James Frecheville). Inadvertently, they're drawn closer together with several more situations like this until, come Sunday, Aubrey's parents leave for a benefit and the two lusty-in-love teens decide to check some more firsts off the list. Except, their first time hardly ends up being what they expected, already testing their new found first love.
Two overtly coiffed and attractive teenagers experience the bloom of love over one weekend and all sans the obligatory crude humor and misogynistic undertones underpinning many similar efforts of its ilk. But that's not to say that the film feels, by any means, realistic, as these heavily polished smooth talkers neither look nor sound like love struck teens mooning about at aimless parties, engaging in apathetic motions to copy one another. No, these are the hyper realistic fantasy love birds that Kasdan wants us to nostalagize with, nudging us in the ribs, trying to convince us that this is the way it felt and looked. It's not Nabokov, but neither is it Diablo Cody, so hey, it's not entirely hopeless.
While the film is not worthy of abject dismissal, as Kasdan is at least trying to give us something that feels genuine, it's still predictable, still one note, and still features two main characters that aren't particularly thrilling to watch. Her parents are great and have money, he's got some dad problems, they both have friends that live in fancy houses with immaculate pools in L.A. They even share favorite tunes, listen to records, and make cute mixes on CD. It's just all so perfectly banal, that there should be some credit to the main players that there's some semblance of engagement. But The First Time never manages to be too frank, cutting away from its most climactic moment, letting us figure out what happened via the verbal sparring afterwards, perhaps because this would be just too much firstness going on.
Unfortunately, the film's greatest challenge will be finding an audience. Adults, many of whom may not have warm and fuzzy feelings about first love or losing their virginity probably won't be interested, and, likewise, the film is too adult and sincere to appeal en masse to the legion of mentally underdeveloped adolescents it depicts. Clearly, Kasdan, like his father and brother, has an attraction to the offbeat. It will be interesting to see where he goes on from here.