American Gigola: Olnek's Hilarious Sophomore Film Reinvents the Masculine Realm of Hustler Bonding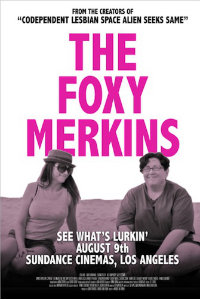 Few filmmakers are able to successfully create a distinctly unique universe of off-kilter comedy both consistent in tone and unwavering quality, especially if it also happens to be cobbled together from a mixture of limited resources. But you can add director Madeleine Olnek to a shortlist of such names with her sophomore film, The Foxy Merkins, an inspired ode to male-hustler buddy films from the vintage 1970s, transposed to modern day and removed from the arena of the heteronormative. Perhaps scrappy and episodic, which only adds to its infectious charm, this is an unfailingly funny film, proving Olnek to be a refreshing voice to behold in an era of repetitive storytelling and mediocre beats within the realm of independent film.
In what appears to be a bid to reconnect with her mother, Margaret (Lisa Haas) takes off to New York City, though she seemingly didn't plan on how she would support herself through the venture, leading her to take to the streets as a prostitute. Once there, she finds a rather mixed (and, invariably sordid) female client base, though she's not very adept at navigating this arena of exchange. Luckily, she runs into Jo (Jackie Monahan) at a 24 hour café. Jo's a seasoned pro, and though she specializes in heterosexual clientele, she's no stranger to navigating the lesbian hooker scene, and navigates Margaret toward the ground zero of lesbian cruising, the outside of Talbot's department store. She also shares her sleeping space with Margaret, the Port Authority public restroom. While Jo comes from a family of means (her mother keeps attempting to get her to come home), Margaret seems determined to find where her long lost mother is, leading them through a series of strange and bizarre scenarios.
To describe the feel of The Foxy Merkins, imagine if Quentin Dupieux had the proper amount of familiarity to make a female buddy comedy concerned with the finer details of lesbian street-hookers abd their clients. It's a film that transcends an actual need for a bonafide, clearly defined narrative, for its magic is in some superb comedic timing, a handful of inspired recurring gags, and a pair of leads that feature the kind of chemistry in the dynamic vein of Laurel & Hardy or that of Art Carney and Jackie Gleason in "The Honeymooners."
Olnek's scenario, co-written with the stars of the film, Lisa Haas and Jackie Monahan, may be simple in structure, yet it's entertaining in that unpredictable sort of way in a universe where the strange and unexpected just sort of happen, not unlike (though not as crass as) early John Waters films, where peripheral family members and vaguely defined motivations descend surreptitiously for eventual closure.
The wickedly weird humor begins with its title (and grants the film one of its most hilarious bits, featuring a trench coated Alex Karpovsky in a graveyard that seems inspired by a similar sequence with David Lochary in Pink Flamingos, 1972). For the uninitiated, the definition of a merkin is 'false hair for the female pudenda,' if that gives you any indication of the subversive humor at work. But, Olnek's film would be lost at sea if it weren't for Jackie Monahan and Lisa Haas, with whom she worked on her 2011 debut, Codependent Lesbian Space Alien Seeks Same.
Haas in particular is an invigorating screen presence as a lesbian hooker, working through her questionable decision in an occupation difficult for those with low self-esteem and undermining shyness. She braves multiple naked sequences when a rich client's (a delicious Susan Ziegler) unique fetish involves police raids, sublimely staged and sidesplittingly ludicrous. A host of other notables filter throughout the milieu, and recognizable faces like Jennifer Prediger (Swanberg's Uncle Kent; Hannah Fidell's A Teacher), Desiree Akhavan (soon to be instantly recognizable when her own lovely directorial debut, Appropriate Behavior sees release), and Frances Bodomo (director of the short film, soon to be feature "Afronauts"), congeal into an excitingly rich amusement, a textured film that's one of those surprising, rare discoveries of original comedic talents.
Reviewed on July 19 at the 2014 Outfest LGBT Los Angeles Film Festival – U.S. Dramatic Features
★★★★/☆☆☆☆☆