She's the One: Fogel's Debut a Top Tier Examination of Co-Dependent Friendship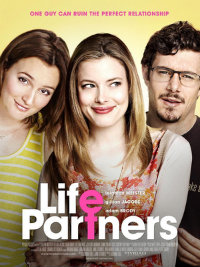 Borrowing shades of autobiographical instances from their own lives, director Susanna Fogel and co-writer Joni Lefkowitz's feature film debut, Life Partners, transcends the corral of niche markets and anchoring labels with its enthusiastic relatability as one of the most realistic examples of life's circumstances forcing friends (a little bit) apart. Devoid of soapboxing subtexts or proselytizing with political agendas, Lefkowitz's tender, sharply observed script gets fleshed out by a handful of genuinely engaging performances from both leads and supporting players. Familiar themes are presented refreshingly as Fogel expertly guides the film through the precarious catwalk of striking just the right balance between light drama and inventive comedy, inviting us to laugh at and with a strikingly composed cast of rich characters.
Best friends Sasha (Leighton Meester) and Paige (Gillian Jacobs) have been inseparable platonic soul mates, attached in every way except romantically. On opposite sides of the Kinsey spectrum, the ladies seem equally unlucky in love, but for different reasons. As they edge perilously close to their thirties, Sasha seems to gravitate toward younger, impressionable women who seem to be in the same motivational drift—she's a professional receptionist, procrastinating with that album she's convinced her supportive parents into thinking she's hard at work on. Paige, on the other hand, is an environmental lawyer who can't seem to find the perfect guy. On a whim, they find dates via the internet on the same night. Sasha's is a bust (and features a fantastic Kate McKinnon), but Paige finds she's attracted to Tim (Adam Brody), a dermatologist with a penchant for quoting random movie quotes. As Paige grows closer to Tim, the besties begin to grow apart, forcing Sasha into an unexpected reality check.
Above all, it's both Lefkowitz's perceptive and screenplay and the great chemistry between Meester and Jacobs that makes Life Partners so intoxicating—the female buddy comedy has long been absent of such superlative qualities. More surprisingly is how the film isn't able to simply be defined by stereotype or labels—it's about two best friends, one who just happens to be a lesbian (and it's refreshing to see the heterosexual end of the duo censure the other for her dips into senseless self-loathing). But what enhances the universal appeal of these characters is how naturally Life Partners plays out—there's never a forced or bracingly melodramatic moment. Sasha and Paige aren't perfect people and don't always make the best choices for themselves or for each other, but reconciliations and eventual growth are hard won, their heavily pronounced character arcs evident in a 90 minute framework due to the care with which they were developed.
Leighton Meester's winning performance is worth noting, a solid step above her presence in schlocky studio fare since graduating from the annals of "Gossip Girl." An incredible comedic talent, it's great to see Jacobs in a lead role instead of playing second fiddle in middling fare. As winning as Meester and Jacobs are together, other supporting players, like Adam Brody, Julie White, and Gabourey Sidibe get utilized in unanticipated ways.
While Fogel and Lefkowitz have collaborated on several television credits, including the series "Chasing Life," they've already established an excitingly pronounced knack for creating funny, endearing, and engaging female characters that generate the type of pathos often sadly lacking in films described as breezy comedies about what many consider to be universally shared life experiences.
Reviewed on July 10 at the 2014 Outfest Los Angeles LGBT Film Festival  – Opening Night Film – 95 Minutes.
★★★½/☆☆☆☆☆