Reviews
The Greasy Strangler | Review
Grease is the Word: Hosking's Repellant Debut Revels in Grotesque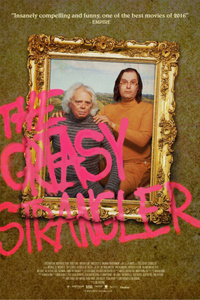 There's a certain insane glee lurking within Jim Hosking's directorial debut, The Greasy Strangler, a film set to confuse, irritate, or dismay audiences outside of a select few masochists who prefer to be repulsed by their cinema. Basically, it's a tale about a very bizarre, dysfunctional father and son living in an unfashionable swath of Los Angeles, bitching and moaning at each other about greasy food and the women unlucky or foolhardy enough to walk into their disgusting little universe. And, oh yeah, one of them may be the man wandering around the city dipped in used cooking grease murdering people. Though this sounds like it has a certain amount of potential, all expectations are bashed into the trash heap with endlessly repetitive, highly objectionable visuals. Salacious sequences exist merely to prove the filmmaker's staunch admiration for bad taste to such a degree the film feels like the aftermath of John Waters felching Harmony Korine.
Big Ronnie (Michael St. Michaels) and his son Big Brayden (Sky Elobar) run a ramshackle disco walking tour in Los Angeles. When a young woman, Janet (Elizabeth De Razzo) takes the tour, she begins a shy flirtation with the soft-spoken Brayden. This causes immediate competition between the co-dependent father and son, and while Janet veers between their affections, an insane murderer coined 'the greasy strangler' begins to strike more frequently.
Technically speaking, The Greasy Strangler looks a lot better than the subject matter deserves, and Marten Tedin captures a prevalent, grimy aspect of sprawling, nocturnal Los Angeles while Andrew Hung's moody score promises something much more insidious than the monotony of revulsion. It's a bizarro, forbidden zone which exists somewhere between a spectrum of Quentin Dupieux and Ed Wood, with performances so artificial one could make an argument for a certain degree of artistic integrity. But Hosking falls into an age-old problem of self-awareness, and The Greasy Strangler can't be classified as camp. Rather, Hosking has a prime example of trash cinema on his hands, a putrid, despicably base endeavor which only exudes an understanding of adolescent humor, which quickly wears out its welcome long before any killing begins.
As the vile and overall abominable Big Ronnie (whose unattractive prosthetic male organs are sometimes evidently unfettered), Michael St. Michaels is a hypnotic train wreck in a sledgehammer of a performance which makes the actor resemble the love child of John Witherspoon and Thomas Hayden Church. Since witnessing men deal with either extreme of the endowment range seems the comic gold standard, Sky Elobar (who should immediately be invited into a skit with Tim Heidecker and Eric Wareheim) gets stuck with fuzzy end of the lollipop for more shameful emasculation, which seems to reach a frustrated zenith after subjected to the sounds of his father engaged in hyperbolic sex with his girlfriend Janet (a performance from Elizabeth De Razzo which elicits a sort of pity, disco cutie indeed).
Ultimately, The Greasy Strangler is like a winded joke without a punchline (or, by the film's standards, an unrelenting wave of flatulence). Keeping in mind there's a time and place for every kind of film or bodily function, you'll need to be in the mood for ribald insanity before going in.
Reviewed on January 23rd at the 2016 Sundance Film Festival – Midnight Programme. 93 Min.
★★/☆☆☆☆☆