Echoes of Autumn: Jurgiu's Understated Debut Tender, Unmemorable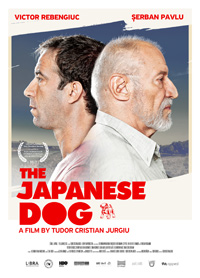 Inevitably, it's difficult to consider the merits of Romanian director Tudor Cristian Jurgiu's directorial debut The Japanese Dog without first positioning it within the context of the current output of Jurgiu's peers, many of whom belong and have flourished in the framework established by the New Romanian Wave. Simple, sort of tender, and not without a subtle blend of layered meaning, many will (and have) compared the film, mostly unfavorably, to the works of Yasujiro Ozu, wherein in delicate, incredibly fragile familial emotions interweave within the confines of simplistic narrative. Yet Jurgiu's film feels much to sleight of hand and shirks from the responsibility of going beyond the superficiality of its sentiments.
Costache (Victor Rebengiuc) is a crusty curmudgeon, a man who mostly keeps to himself in his small village. Recently, it seems a major flood has wiped out many of the local properties and Costache and his neighbors have been busy putting their lives back in order. Slowly, we learn major details about him, including the fact that his wife recently passed away. Amid waiting for electricity to be reinstated, a letter from his estranged son, Ticu (Serban Pavlu) arrives, announcing a visit. It turns out Costache never informed his son of his mother's passing. Meanwhile, he's been on the precipice of selling off his land, but backs out again at the last minute, apparently holding onto the desperate hope that his son, who absconded off to Japan years ago, will someday return to claim the property. And so, Ticu arrives with wife Hiroku (Kana Hshimoto) and seven year old son, both of whom have never met Costache. The old man warms to the young boy, and Ticu, slightly mollified that his father couldn't even have bothered to call to inform him of his mother's death, sets about righting some significant wrongs in the village that have festered since his departure.
Costache's current existence is flooded both emotionally and physically, a downpour that directly affects him, forcing him to reexamine choices he's made. The other villagers deal with him warily, unsurprised by his snappiness. His first exchange is with a drunken neighbor asking for money. "You're just dumb," he spits. There's a certain amount of entertainment to be had here, but Jurgiu always keeps us at a distance from the old man.
Close-ups are rare, or abruptly interrupted, such as when we observe him about to be shaved but angered at the busy bodied, idle chatter he storms off before anyone can get too close to his skin, so to speak. Moments with his grandson are subtle and touching, a young boy who speak broken Romanian and plays with a robotic toy dog that speaks English. However, reconnecting with his son is less adept, bringing us to an all's well that ends well moment, including a rather poorly realized subplot involving the girlfriend Ticu left behind.
As Costache, Rebengiuc (who starred in Calin Peter Netzer's 2009 Medal of Honor and Radu Muntean's Tuesday, After Christmas) is heartily entertaining, the camera often stationed outside or in the other room, constantly granting us a layered field of vision, even in outside shots where bodies are centered by a row of foliage. Serban Pavlu, unfortunately, gets saddled with a rather underwhelming characterization, especially to those familiar with his superb performance in Radu Jude's 2012 Everybody in Our Family.
Standing as Romania's selection for this year's Foreign Language Oscar submission, there's nothing innately wrong with The Japanese Dog and its mild treatment of missed communication and forgotten opportunities, but it isn't quite involving in any lasting regard.
Reviewed on December 4 at the 2014 Making Waves: New Romanian Cinema Film Festival – Opening Night Film. 86 Min.
★★½/☆☆☆☆☆