Reviews
Love at First Fight | Review
Once Bitten: Cailley's Unique Exploration of Summer Lovin'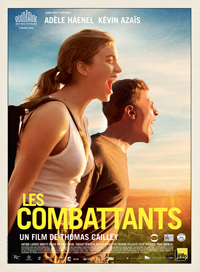 Since premiering at the 2014 Cannes Film Festival, where it picked up the FIPRESCI Prize in the Directors' Fortnight sidebar, Thomas Cailley's directorial debut, Love at First Fight has been treated to generous critical acclaim. Nabbing three César Awards in February, including for Best First Film, Most Promising Actor, and a Best Actress award for Adele Haenel (trumping competition that included Juliette Binoche and Marion Cotillard). Basically a romantically inclined drama that subverts its conventions by playing around a bit with gender norms, its winning protagonists make this strangely and unpredictably funny film quite charming. Its original title, Les Combattants literally means The Fighters, which would have been much preferred to the horrid English language surrogate.
With their father recently deceased, brothers Manu (Antoine Laurent) and Arnaud Labrede (Kevin Azais) are forced to take over the family woodcutting factory, which seems to profit from commissions for nonessential edifices. Randomly, Arnaud meets Madeleine (Adele Haenel) during a self-defense class where he is forced into a wrestling match. Madeleine is intense and committed to winning, and in a panic Arnaud bites her, inadvertently winning their match. They meet again when her parents consult the brothers about building a wooden hut on their property. Madeleine churlishly tries to thwart the sale, but is unsuccessful. As the Labrede's begin to build, Arnaud observes Madeleine's strange behavior and eventually finds himself in her good graces. She wishes to join the most advanced military service possible so that she can be prepared for the coming end of days. Arnaud is fine as long he is allowed to tag along.
Adele Haenel has long been a striking presence in French cinema, beginning with her memorable turn in Celine Sciamma's 2007 debut, Water Lilies. She won her first Cesar last year for a supporting turn in Katell Quillevere's Suzanne, and has starred in Bertrand Bonello's decadent House of Tolerance and Guy Maddin's The Forbidden Room. Her unique look is well suited for someone like Madeleine, who sometimes comes across as downright insane, reminiscent of a butched up Isabelle Adjani.
Reminiscent of the ridiculous protocols of Israeli army life depicted in last year's Zero Tolerance, Madeleine's assumptions and expectations are way too high for the 'advanced' military training she masochistically wishes to grind herself into. Earlier in the film she churns a raw fish up in a blender and drinks it. Which sets up her later scoff at the comfort food served the trainees, representing one of her many disappointments with this less strenuous type of training. By that point we've already learned that Madeline believes she needs to prepare for the end of the world, blurting her alarming rhetoric out over dinner to Arnaud's family.
Kevin Azais' Arnaud is definitely the more passive force, looking like a wide-eyed puppy following Madeleine into her self-imposed tasking, even if it means potentially abandoning the family business. When the couple strikes out on their own, leaving behind the disappointment of the structured world to fend for themselves in some kind of loosely defined walkabout, Love gets a little lost on its own seriousness, though it finally allows Arnaud to prove how he resourceful he can be to Madeleine. They share an offbeat strangeness that makes them a memorably odd, believable couple.
Cailley assembles an excellent, ambient electronic soundtrack (including a sample of Vitalic), reminiscent of Rebecca Zlotowski's use of Robin Coudert's compositions in Belle Epine (2010) for a feature debut that's as entertaining as it is familiar.
Reviewed on March 12 at the 2015 Rendezvous w/French Cinema at Film Society Lincoln Center – 98 Mins.
★★★½/☆☆☆☆☆