Reviews
The Kings of Summer | Review
Stand By Me: Vogt-Roberts Recalls the Boys of Summer with Enjoyable Debut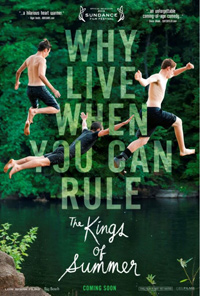 Creator and director of the Comedy Central series Mash-Up, Jordan Vogt-Roberts manages to make an amiable debut with The Kings of Summer (retitled from the original Toy's House during its Sundance 2013 premiere), a film that manages to recapture that nostalgic glow of teenage angst and discovery despite revolving a bit too heavily on numerous instances of grating quirk so redolent of the coming of age drama. While its trio of teenage protagonists outweigh their welcome in its final developments and you may be left with the desire to see more of the expert players assembled for its adult cast, Vogt-Roberts has a made a warm and thoughtfully observed portrait featuring a lovingly drawn host of characters.
A sophomore in high school, Joe Toy (Nick Robertson) lives alone with his overbearing but affectionately gruff dad, Frank (Nick Offerman). His mom passed away some time ago and older sister, Heather (Alison Brie) doesn't visit often, though when she does she always brings her obnoxious and socially inept boyfriend Colin (Eugene Cordero). While Joe and Frank are constantly on each other's nerves, an even more obnoxious scenario exists for Joe's best friend, Patrick (Gabriel Brasso) who has lovingly out of touch parents (Megan Mullally, Marc Evan Jackson) that drive him crazy with their nagging, weird humor. Together, they hatch a plot to build a fortress in a remote part of the Ohio countryside, letting oddball outcast Biaggio (Moises Arias) join their ragtag band of outsiders. While their parents are dismayed at the absence of their sons, which begins a rather feeble investigation from an overtly inept police force, headlined by a clueless pair of officers (Mary Lynn Rajskub, Thomas Middleditch) the boys rather swimmingly adapt to life in the wild (even though they are helped considerably by dumpster diving at a nearby Boston Market). But when Joe fetches his high school crush, the recently single Kelly (Erin Moriarty) to check out their new digs, her presence throws their little world into chaos.
While The Kings of Summer maintains just the right demeanor of playfulness to keep the hounds of reality at bay, Chris Galletta's overly assured screenplay starts skirting contrived territory during its second half. An alarming dependence on random quirkiness kills any chance the film has of achieving the greatness of something like Stand By Me or Moonrise Kingdom, though not to say that Vogt-Roberts is even trying to fashion his film into a relative of either of those features. It's just that there are several moments of distilled perfection sprinkled throughout his film that you're left wishing it could have achieved similar heights.
There's way too many silly moments using the bizarrely drawn characters of Biaggio and Colin, both ethnic others that are played as so oblivious to social cues they may as well be extraterrestrial. There's a glimmering moment where it seems like something genuine may transpire with Biaggio (in an earnest performance from Moises Arias), when he nonchalantly proclaims that "I don't see myself as having a gender," but it's only one of several moments lost for a laugh. Likewise, the character of Joe Toy is cloyingly self assured and his conflict with his father hardly seems impetus to run off into the woods to rough it.
Their banal teenage conflicts, alas, grow wearying and we're left hungering for more screen time from the first rate likes of Offerman and Mullally, who score the best moments of the film. With wild, reckless abandon, the sweetness of friendship and first rumblings of affection, The Kings of Summer does manage to evoke the bloom of angsty adolescence, supported by several alternative rock tracks that sometimes serve as distraction rather than enhancement (even if MGMT sounds like it would make sense here). A silly fantasy sequence, while technically proficient, feels overdone, like something from Jesus Henry Christ. Overall, Jordan Vogt-Roberts has a strong debut on his hands, and Ohio's rural area has never looked so appealing.