Sacrificing Everything For Burma, Her Home Away From Home: Besson Moves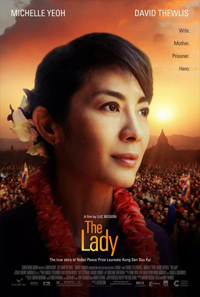 With a very spotty writing career in his wake, and years past his hot streak of the late 80s and 90s, Luc Besson is back in the director's chair with his tribute to the real life pro-democracy activist Aung San Suu Kyi, who is played by Michelle Yeoh at her award-worthy best. Besson finds great strength and beauty concealed beneath the iron rule of the totalitarian military that has terrorized Burma since the death of Aung San Suu Kyi's democracy supporting father in 1947. His story telling clings hard to sentimentality rather than historical facts, but thanks to an Oscar worthy performance by Yeoh and a stark realism lensed ever so gracefully by Besson's long time cinematographer, Thierry Arbogast, The Lady makes for a powerful, if not weighty, biopic.
A prologue sets us in Rangoon in 1947, where we witness the assassination of Aung San, while his young daughter is sitting outside. That young girl is now living in Oxford in 1988, is married to Michael Aris (David Thewlis), an academic scholar, and has two sons, Kim (Jonathan Raggett) and Alexander (Jonathan Woodhouse). Aung San Suu Kyi's mother is on her death bed, so she travels back to her troubled country of origin to see her off. With her martyred father still fresh in the minds of the oppressed, shortly after her arrival she is asked to lead the fledgling democratic revolution. After seriously pondering the situation over, taking into consideration her family living abroad, she accepts with one condition – only until they find someone who can sufficiently replace her.
Years later, Aung San Suu Kyi was still there. After a long delayed election, she won in a landslide victory, but instead of handing over the reigns, the Burmese government cut her off from the world, and put her under house arrest where she was held under armed guard. She was not even allowed contact with her worried sick family. Her physical and mental sacrifices for the good of her country garnered her the Nobel Peace Prize in 1991, but her struggles continued for years to come. When Aris was diagnosed with prostate cancer in 1997, he was refused a visa by the Burmese government, so she wasn't able to see him before his death in 1999. Over ten years later, her house arrest has been lifted, but her elected position as the leader of a new democratic Burma has yet to be handed over.
Emulating the monotony of being under house arrest, the film spends a lot of time focusing on the frustration of both our lead and her family as they experience extreme isolationism and longing. This would be really quite dull if it wasn't for a set of intensely emotional performances from all four family members (though some cutting could have helped the slightly over long film). Yeoh's nuance between sheer determination and real fear is truly remarkable. The smallest quiver in her lips or welled up stare speaks much louder than any word ever could.
Aris plays the perfect counterpoint to Yeoh's intensity, with his trusting laid back nature playing the absolute perfect father for their situation (as well as playing his worried twin brother). Details in the passage of time are also excellent, especially in the teenage boys who seem to age quite naturally, to the point where it seems they may have filmed their different ages over the course of years. The film's massive downfall is its need to over play the concept of the wholesome family with overworked, over emotional dialogue. Yes, their immense personal sacrifices are intense, but there is no need in beating the audience over the head with this idea.
Though the real life Aung San Suu Kyi's story is far from complete, The Lady leaves us in the present, making us aware of Burma's sad state of affairs and an immeasurably humane woman who has given up so much for her people. Though the film focuses on her personal relationships, it speaks on how powerful determination and personal sacrifice can be when it means the betterment of an entire nation is in the balance. Rather than aiming to inform, Besson aims to move, and moved you shall be.
Reviewed on September 17th at the 2011 Toronto Int. Film Festival – Gala Presentations Programme.
145 Mins.