Reviews
The Man from U.N.C.L.E. | Review
Say Uncle: Ritchie Continues String of Studio Pastiche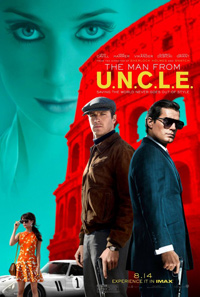 In a continuation of our culture's insistence on plumbing the depths of past artifacts from the annals of entertainment, Guy Ritchie continues to spearhead the platitudinal safety of broadly realized studio fare with The Man from U.N.C.L.E., a revamp of the popular mid-60s television series starring Robert Vaughn and David McCallum. Shallow and superficial, but spruced up with Ritchie's usual zest for slickly edited, often comical action sequences, it's the sort of bauble someone spent significant time painting with materials prone to oxidizing quickly.
Though pleasing in a sort of rudimentary tradition, the sort of consumption geared solely towards the visual splendor of pretty people wearing elegant outfits goes, it's hardly an enthusiastically rendered reboot.
When a mysterious international organization seems to have kidnapped a top nuclear scientist, opposing CIA and KGB forces must unite to stop the manufacturing of a deadly weapon before it falls into the wrong hands. At the height of the Cold War, this alliance seems no small feat, and American agent and former criminal Napoleon Solo (Henry Cavill) seems to be at odds with the highly trained Russian work horse agent Ilya Kuryakin (Armie Hammer). They recruit the daughter of the scientist, Gaby (Alicia Vikander), a woman trapped in East Berlin as a mechanic, in hopes that she will help lead them to her father's whereabouts.
At the heart of the film's issue is the stagnant casting. As talented as the beautiful, if sometimes mincing Swedish actress Vikander may be, she's both underwhelming and unbelievable as the mechanic turned agent of espionage in this Cold War cutlet. She seems styled after the stick-like poise of Euro icon Audrey Hepburn, and perhaps that's fitting since her lack of chemistry (and questionable nationality) with her sanctioned subplot is reminiscent of the coldness between the leads of William Wyler's How to Steal a Million (1966). But Vikander's miscasting is nothing compared to the cardboard quality of the two male leads.
In keeping with the tradition of the original series, a non-Russian suffers through the role of Kuryakin, and Hammer does do a valiant job of working his way through this silliness. It would've helped the actors immensely if Ritchie's screenplay, co-written by his Sherlock Holmes scribe, had bothered to seem witty, in any regard. Oddly placed rejoinders and flat quips struggle to enliven the film's sluggish dry spells, of which there are many considering the woefully elementary narrative. The worst offender has to be Henry Cavill as the colorfully named Napoleon Solo, who manages to be so relentlessly uninteresting that one wonders if he hasn't been robotized.
In visual terms, Ritchie lands a few inspired moments, like a late staged multi-perspective split-screen montage packed with more energy and tension than any single-handed moment that comes before it. But as chic as the film's production may be, it never feels like the essence of the era, only a paltry homage to it, like kids playing dress up.
Looking back upon Ritchie's earlier works, like the expressive debut Lock, Stock, and Two Smoking Barrels (1998) and its popular follow-up, Snatch (2000), it's hard to imagine his signature splashes of violence and surly appropriations of masculinity would eventually be blunted into PG-13 assembly line styled features. He revisits the vague homoeroticism between two semi-competitive male leads once more, though this time sans the cutesy energy of Robert Downey Jr. and Jude Law at least managed in his Sherlock Holmes films.
The hollow masculine posturing of The Man from U.N.C.L.E. (giving rise to equally underwhelming supporting turns from Hugh Grant and Jared Harris) feels like one more missed opportunity in a film that was made despite being comprised of nearly all the wrong elements.
★★/☆☆☆☆☆