Wide Open Spaces: Grau's Arid English Language Debut Misses the Mark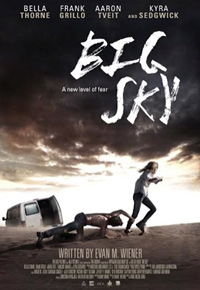 For his long awaited follow-up to his handsomely unsettling 2010 debut We Are What We Are (since remade in English by Jim Mickle), Mexican filmmaker Jorge Michel Grau turns to the American indie scene for Big Sky. But this desert set survival story trailing one teenager's attempts to overcome the dastardly adults in pursuit of her is as equally ludicrous as another foreign filmmaker's recent foray into English, French filmmaker Jean-Baptiste Leonetti's nonsensical Beyond the Reach. Ill-advised and incongruously shaped at every turn, this technically proficient exercise's greatest faults could easily be assigned solely to Evan M. Wiener's woefully underwhelming and inconsistent screenplay. But then that would be too easy since beyond the plumes of beautiful desert landscapes, there's little else of consequence in this simulated genre performance.
Agoraphobic teen Hazel (Bella Thorne) has been cared for by her patient mother Dee (Kyra Sedgwick), but clearly the two women have been cooped up together too long in the same small space. In order to facilitate Hazel's rehabilitation from the unexplained tragedy which caused this condition, Dee enrolls her in a program at a sanitarium. In order to transport her, Dee has Hazel placed in a large black box secured snugly into the back of a transport vehicle. They pick up several other passengers on their way to check into the facility and amidst mild griping, the van is hijacked by Jesse (Frank Grillo) and his brother Pru (Aaron Tveit), and they kill all the men but take the visible young female with them. Dee, however, is left for dead with a bullet in her stomach because Pru shoots her thanks to her surprising reaction to the entanglement. They neglect to check the black box containing Hazel, and so she is forced to fight her fears and tackle the expansive desert to find help for her mother or risk losing her.
Of course, along the way we get hints at the trauma haunting Hazel, appearing in the form of the mirage of her drowned, younger sister, although it's relayed with a nonchalance suggesting perhaps this was only one of several problematic instances. Or maybe not.
We can't quite figure out anyone's issues or motivations in Big Sky, including, and this is a large distraction, why Jesse and his own troubled younger brother decide to attack the sanitarium van in the first place. They steal case files, and it seems the kidnapped female points towards some sort of sex trafficking, but again, we'll never know. The fleeting supporting players making up the oddly diverse sanitarium seekers are especially awkward, chewing through clunky dialogue which ends up being thankfully brief thanks to the swift onslaught of violence.
Frustratingly vague when it shouldn't be and ridiculously obvious with its emotional manipulation (the wounded Dee manages to dig through Hazel's belongings left in the car and, reads aloud mind you, a list of Hazel's recounting all the reasons in existence explaining why her mother must despise her).
Sedgwick and Grillo are both very seasoned, dependable performers, and while they aren't at fault here, they also aren't given anything very meaningful to do other than provide juxtaposing templates for one another. In fact, more pains are taken to give defining characteristics to the irritating crazed biker Hazel encounters in the desert, played by French Canadian actor Francois Arnaud (I Killed My Mother, 2009), who has a queasy obsession with Aldous Huxley, even offering to read aloud the famed author's prose to the increasingly venturous Hazel.
Disney star Bella Thorne abandons her usual pinched temperament to play the problematic protagonist here, but her agoraphobia is relayed more effectively through the cinematography shown from her perspective rather than via performance. But as we journey with her through the dry desert, switching intermittently to Jesse and Pru's continually mysterious shenanigans, our interest is lost early on, never to be regained.
★½/☆☆☆☆☆