Reviews
The Man Who Knew Infinity | Review
Beautiful Mind: Brown's Restitution for Neglected Mathematics Genius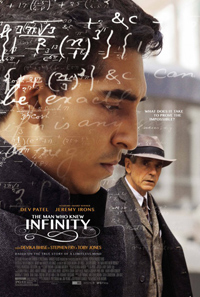 For those outside of an academic realm in mathematics, the name Srinivasa Ramanujan most likely won't register, something director Matthew Brown's sophomore effort (his first film in fifteen years), The Man Who Knew Infinity, attempts to correct. This rosy-tinted WWI set drama is based on the somewhat tragic story of a genius Indian mathematician hampered by Britain's post-colonialist derived racism, archaic traditions derived from his own culture, compromised health and an economically disadvantaged family. Despite some particularly heated moments between its two leads, the film bleats mawkishly in nearly every possible regard. Rather than explore the inherent racism bred through generations of the academically and economically privileged, Brown's screenplay (adapted from Robert Kanigel's biography) attempts to simplify its focus on two eccentrics coming together against cultural odds. The accomplishments of S. Ramanujan, who is granted a fellowship thanks to his mathematical theories at the prestigious Cambridge University, somehow seems diminished, especially considering India wouldn't even gain independence from the British for over two decades after his death.
In 1913 Madras, Srinivasa Ramanujan (Dev Patel) is a shipping clerk who also happens to be a self-taught mathematics genius, a field of study which his obsession with also assisted in academic demise at the local university. A supervisor (Raghuvir Joshi) recognizes his capability, and urges him to write to G.H. Hardy (Jeremy Irons), a professor at Trinity College, Cambridge in an effort to secure publication for what he believes to be a groundbreaking theory regarding prime numbers. Hardy and his colleague, Littlewood (Toby Jones) take an immediate, if rather reserved interest in Ramanujan's hypotheses, and invite him to Cambridge, despite the significant protestations of the white, British administration. Forced to leave behind his controlling mother (Arundhati Nag) and young wife (Devika Bhise), despite cultural traditions denying his people the option to cross the ocean, Ramanujan makes a trailblazing journey to be greeted rather coldly by the Cambridge staff, including the eccentric Hardy, who appreciates the genius' abilities but does little to make him feel welcome. Combating racist attitudes, deteriorating health, the onset of WWI and an estrangement from his family back home, Ramanujan struggles to continue with his work, despite holes being poked in his prime numbers theory. But, discovering a formula regarding partitions helps Hardy secure a foothold for Ramanujan, and an eventual fellowship.
As presented by Brown, Ramanujan's compelling narrative plays out like a mystical Joan of Arc happening by way of Good Will Hunting. And, like many UK perspective representations of colonial era India, glossy stereotypes, enhanced and informed by a clichéd soundtrack meant to exude an inherent exoticism of India, tends to prevail over any authentic emotional accomplishments.
On the other hand, this is certainly the most dynamic performance we've seen from Dev Patel since his 2008 breakthrough in Danny Boyle's Slumdog Millionaire, but it's a tempered success considering he bears little resemblance to the actual Srinivasa Ramanujan. Irons is routinely engaging as a crusty, introverted professor who cares little for human socializing outside of his obsessive academic realm. Other famous Brits appear in brief supporting roles (Jeremy Northam, Stephen Fry), though most of these are throwaway bits, with the exception of Toby Jones.
An overdependence on clichéd biopic tropes graces the film with certain irony as regards 'formula,' while Brown's screenplay only superficially defines Ramanujan's experiences previous to his Cambridge years, including a religious fervor (claiming his god grants him these mathematical visions) considerably downplayed.
★★/☆☆☆☆☆