Kitty Foil: Key & Peele at the Movies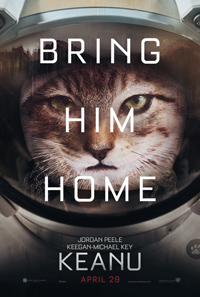 Keegan-Michael Key and Jordan Peele, the duo behind the sketch comedy television series "Key and Peele," get their first headlining film vehicle with the affable Keanu, an action comedy spoof blending together a variety of familiar elements from modern materials. Simplistic and illogical, the film, under the direction of Peter Atencio, lands more punches than expected for a concoction surprisingly cute and often laugh out loud giddy. As an action film, it's prone to the usual glossily choreographed shootouts, banking more on its improbability to underscore moments of comedy, but includes several moments of violence at a level generally unforeseen in films masquerading as mindless comedy. Although a generous subtext as regards the 'act' of urban, raced personas seems more or less squandered for the sake of efficient pacing, this is a highly energized and entertaining romp from the comedic duo, and hopefully they can secure a bankability factor to ensure future ventures.
The titular kitten survives a drug fueled massacre at his owner's warehouse only to end up on the doorstep of Rell (Peele), a brokenhearted photographer who gladly takes the small creature into his home. Best friend Clarence (Keegan-Michael Key) is relieved his friend is single once again, but just as his own wife Hannah (Nia Long) takes off on a weekend with their daughter and adult friend Spencer (Rob Huebel), Rell's kitten Keanu is abducted during a break-in. Devastated, Rell consults his weed dealer next door, Hulka (Will Forte), who confirms the break-in was most likely the work of the 17th Street Blips, considering their leader, Cheddar (Method Man) had threatened to break into Hulka's residence. Now, forced to pretend they're fellow hoods looking to join with Cheddar's team in an illegal enterprise slinging a new drug called 'holy shit,' Rell and Clarence pose as the dreaded Allentown brothers, the shadowy duo who killed little Keanu's original owner. Cheddar agrees to sell them the kitten if they agree to assist him with the distribution of his product to some notable clients.
Instead of Let's Be Cops (which Key appeared in), this plays more like Let's Be Gangsters by way of cute-pet-catalyst/McGuffin as seen in John Wick. Fans of Key and Peele will no doubt approve of their first big screen offering, which is endlessly silly but has a lot of fun playing around with stereotypes and expectations. Credit should be granted to Peele and co-writer Alex Rubens for taking pains to include an array of funny supporting players all utilized effectively, particularly newcomer Tiffany Haddish as Hi-C.
Straight Outta Compton's Jason Mitchell, a sinister Method Man, and a brief turn from Nia Long are also highlights worth mentioning. But it's clearly Key and Peele's vehicle all the way, who surprise in their ability to make even their repetitive bits, such as the frequently referenced George Michael, fresh. A surprise cameo from Anna Faris also upends expectations.
There's a fair amount of action transpiring onscreen, sometimes to surprisingly violent effect (although a last minute reveal attempts to salvage one of the film's bloodier moments), including a laudable car chase sequence which has the good sense to include a punchline or two. In a mainstream genre lorded over by Will Ferrell or a variation of the Wayans Bros. for the past decade, Keanu announces Key and Peele as the new kids on the block with material more intelligent than it would seem and without being overly dependent on crassness or shock value to confirm its acceptability as adult entertainment.
★★★/☆☆☆☆☆