Chapter Two: Scafaria Scores with Sarandon in Earnest Character Portrait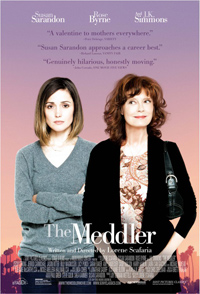 Writer-director Lorene Scafaria manages her most accomplished work to date with sophomore feature, The Meddler, a droll ode to her extroverted, warmhearted mother. Drawing from real-life experiences, this is a far cry from the contrived pre-apocalyptic romance Seeking a Friend for the End of the World (2012), or her screenplay for Peter Sollet's unappealing Nick and Norah's Infinite Playlist (2008), which focused on two trendy and pretentious hipsters in NYC. Instead, this serves as a meta-homage to the resiliency of motherhood, warmly favoring the perspective of a woman attempting to move on after the death of a beloved spouse and struggling to find a way to remain valuable to her daughter and those around her. What sounds like a familiar bit of cornball melodrama skewed obliviously into a privileged continuum evolves into something quite special thanks to a phenomenal performance from Susan Sarandon, an actor who has excelled for decades at playing all kinds of mothers (even as early as the late 1970s, when she was advised against doing so in Louis Malle's Pretty Baby, 1978).
After her husband passes away and leaves her with a sturdy and enduring inheritance, widowed Marnie Minervini (Sarandon) leaves New York to live near her daughter Lori (Rose Byrne), a successful but perpetually unhappy screenwriter in Los Angeles. Eternally optimistic, Marnie finds herself without much to occupy her time, though she makes fast friends wherever she goes, such as with Genius Bar employee Freddy (Jerrod Carmichael), who works at the Apple store in The Grove, her favorite place to frequent. But she's driving Lori crazy, calling her multiple times a day, showing up unannounced, and attending events hosted by Lori's friends without her, such as Emily's (Lucy Punch) baby shower. When Lori flies to New York to film a pilot and is unavailable, Marnie is forced to look elsewhere for attention, beginning with Jillian (Cecily Strong), offering to pay for the wedding the woman was never able to have with her partner. At the same time, she finds herself courted by two different men (Michael McKean and J.K. Simmons), forcing her to examine some personal issues she has yet to work through.
The Meddler is helped and hindered by its sheer simplicity, and while it's easy to deride the film as merely a well-proportioned sitcom (with parallels towards the autobiographical television show Rose Byrne is clearly crafting within the film), one can't overlook the generous character arc afforded Sarandon as Marnie Minervini. Sporting a notable New York accent (without ever seeming mawkish), she's an aggressive blast of fresh air to the perpetual ambivalence of the trendy Los Angeles haunts. Favoring the tourist attraction The Grove (tearing up over the repetitive use of Frank Sinatra's "My Way," her husband's favorite tune, which blasts over the flashy fountain display), we become easily endeared to her thanks to her continual narration, which is formulated into a convenient device as her many voicemails to her distracted, depressed daughter. Some of the subplots involving various supporting characters could have easily slipped into schmaltz, but Scafaria keeps a fine balance by underlining Marnie's questionable but helpful assistance towards those in need.
Her actions are born from a complex web of guilt, a need to please, loneliness, and a search for meaning. And so when Cecily Strong professes her love for Marnie at the wedding she generously paid for, there's a twinge of falsity, one of several sharp edges undermining the film's potential to play it safe at all times. True, there's a sense of easily won resolution, and the predictable push into the beginnings of a new romance for Marnie (arguably using a gush of Juice Newton better than Deadpool) buttons up the final act a bit neatly—and to compare this to Mia Hansen-Love's recent portrait of a mother suddenly alone, Things to Come starring Isabelle Huppert, more or less highlights how insecure American cinema is with dealing with resilient, intelligent women, particularly of a certain age. But The Meddler flies high on the livelihood of Susan Sarandon, who delivers a lived-in performance which embraces the sometimes obnoxious but ultimately admirable nature of a loving mom.
★★★/☆☆☆☆☆