War Story: Weinstock's Sophomore Feature Rides on Leigh's Laurels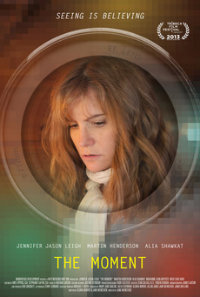 Unveiling her first film since her 2003 debut, Easy, director Jane Weinstock's latest, The Moment, is an intriguing psychological thriller featuring an exciting and unpredictable cast. Unfortunately, the film gets a bit derailed as its fatiguing complexities outweigh any enjoyment gained from experiencing its puzzling scenario. Jennifer Jason Leigh stars in a committed performance, though she can't quite overcome the tedious fluctuations that drive us away rather than rope us in.
Lurking outside her ex's isolated home, photographer Lee (Jennifer Jason Leigh) anxiously calls to announce her wish to collect some equipment she'd left behind in the house. Receiving no answer but seeing his vehicle located outside, she enters the home to find that John (Martin Henderson) hasn't been there in sometime. Alarmed and somewhat stunned, Lee collects her instruments and reports him as missing to a nonchalant police sergeant (Meat Loaf). Later, she goes to an exhibition of her work, attended by ex-husband Malik (Navid Negahban) and angry daughter Jessie (Alia Shawkat). After tense interactions with Jessie, Lee has a strange meltdown, stripping off her clothes and wandering through the exhibition, suddenly mute. Shuttled off to a sanitarium, we learn from interactions with her therapist (Marianne Jean-Baptiste) that she was a war photographer who suffered considerable injuries after a suicide bombing in Somalia, which may have killed her friend and interpreter, Hawa (Anna Diop). A cascade of non-linear flashbacks ensue that may or may not have been pure manufacturing of Lee's troubled mind. Did she kill John and forget? Or was it someone else close to her?
Initially, Weinstock's scenario feels something like Mark Jackson's War Story overlaying Robert Altman's Images, recalling a heyday of cinematic women in meltdown mode. It's clear that Lee's traumatic experience in Somalia has something to do with her current condition, but it's one of several revisited 'moments' throughout the film. Because of her hospitalization, she meets John—but is it the moment where she discovers John is simultaneously seeing her daughter that really sends her psyche into splintered chaos?
Once Henderson's John melds with Henderson as Peter, things quickly get convoluted. We get that Leigh's Lee is the only one that sees Peter and John as the same person, so we're treated to a repetitive number of situations that lead to, at last, the same discovery within the film. Leigh's commendable continuation of taking parts, both small and large, in independent fare pays off for her here, but The Moment, as a whole, feels unsuccessful. Henderson's performance is more of a visual gimmick, while Meat Loaf's police sergeant is a flavorless turn. Alia Shawkat and Marianne Jean-Baptiste are wonderful accents, but they're both playing familiar types of people we've seen them portray before.
Visually, James Laxton's cinematography feels alert and expressive, particularly during the first half of the film before narrative apathy sets in, from Leigh's exploration of John's maggot infested apartment, to the menacing white hallways of a storage facility that may as well be the asylum she's eventually squirrelled away to. The ultra-menacing score, on the other hand, tends to fool us into expecting cheap thrills. Unfortunately, none are to be had at all. 
★★/☆☆☆☆☆