The Nile Hilton Incident | Review
Cairo Crime: A Murder Mystery Simmers Against the Backdrop of a Revolution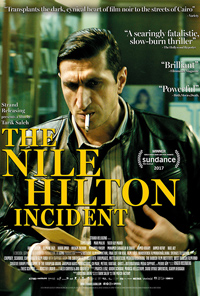 After an animated feature about a dystopian nightmare (2009's Metropia), a Swedish heist drama (2014's Tommy), and a couple of music videos for singer-songwriter Lykke Li, filmmaker and former graffiti artist Tarik Saleh turns his eye as both writer and director to the 2011 Egyptian revolution in The Nile Hilton Incident. It's a personal-meets-political portrait of a fictional murder mystery set within the confines of the very real corruption and unrest that eventually led to the Tahrir Square uprising of January 25, 2011.
Amid the dusty, crumbling streets of downtown Cairo, Noredin Mostafa (a police officer played by Fares Fares) attempts to investigate the murder of a beautiful club singer at the Nile Hilton Hotel. After experiencing obvious obstruction and pushback from his superiors in the police department, Egypt's political leaders, and the suspects themselves, our man quickly realizes that this crime involves the very powerful elite of a deeply corrupt country where the notion of justice is only trotted out when convenient (and financially profitable).
The story weaves between Noredin's own personal demons, a Sudanese maid at the hotel who is the crime's only witness, and the larger socio-political context in which it all plays out (cops are openly bribed, government officials threaten victims into silence, and nobody even pretends to be outraged about it all).
A subtle noir signature pervades the film, but doesn't overdo it. Sure, the lighting is hazy, the urban landscape dirty, the women sexy and untrustworthy, and the cops jaded yet thirsty, but this isn't a straight neo-noir homage. The political backdrop of the narrative gives the archetypal story and characters a profound specificity that will be particularly interesting to viewers familiar with post-revolution Egypt (in short: not much has changed in the last six years).
While Noredin initially seems like an unsympathetic character due to the lax way he goes about his work and the fact that he, too, like everyone else, is corrupt to a degree, the continued focus on his face in most scenes (and Fares' beautifully understated performance) slowly begins to make him seem less stubbornly grim and more understandably broken.
The film's secondary visual element, besides Fares' unforgettable mug, is the city itself. Chaos, crowds, crumbling abandoned buildings that house illegal immigrants, billboards that advertise corrupt political candidates, and cars that definitely don't follow the rules of the road: Morocco stands in well for Cairo leading up to the 2011 revolution.
Comparisons to Chinatown have already been made, and they're not entirely off the mark. A man's personal vendetta criss-crossed with a deeply corrupt political context must necessarily, as both Noredin and Chinatown's Jake do, "forget it".
At times, The Nile Hilton Incident falls into the traps that are hard to avoid for any whodunnit: we ask why a characters inexplicably took one course of action over another seemingly more rational one; we wonder how some coincidences seem to good to be true. But overall, the film is a compelling and beautifully shot marriage of the universally personal and the particularly political.
★★★/☆☆☆☆☆