Reviews
Message from the King | Review
To Live and Die in LA: Du Welz Explores the Los Angeles Underbelly in Revenge Noir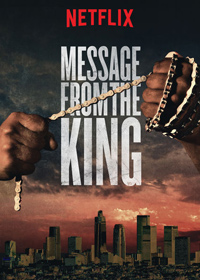 Belgian auteur Fabrice Du Welz makes his English language debut with efficiently paced Los Angeles set neo-noir Message from the King, a brooding, gritty revenge flick geared as a throwback to American cinema of yesteryear, when the sleazy metropolis was a favored go-to for cinematic dens of iniquity.
Characterizing the vibrant sprawl of East Los Angeles through the thin veneer of an increasingly respectable downtown before charting a course into the privileged business sector of Beverly Hills/mid-Wilshire, and eventually the upper echelons of the Hills, this is a nasty little number skewering the city's various layers of decadence through the lens of a stranger in a strange land. Receiving a desperate voicemail from his estranged sister, a working class South African man arrives in the City of Angels to find she's disappeared, her husband and step-son nowhere to be found.
Opening on a note of frightened panic, Jakob King (Chadwick Boseman) hops on a flight to Los Angeles from his home in South Africa after receiving a terrified call from his younger sister, Bianca. After Customs officials anxiously question his intentions for arriving in the US without a credit card and little cash, he quickly checks into a dive motel (the kind where the front desk manager has to explain a moral code is in enforced on the premises, which includes the exclusion of prostitutes and gay men), and heads to his sister's last known address. Questioning her neighbor Trish (Natalie Martinez), he learns disturbing details about a fall-out with her husband, who left her in charge of his son Armand (Diego Josef). Worse, her old landlord (the usually entertaining and crusty Dale Dickey) confirms his sister looked strung out the last time she saw her, but suggests he try contacting the guy who mysteriously paid all her back rent right before she skipped town. Digging through her scant belongings, he finds more clues (via a friendly store clerk in Koreatown, Spa Night's Joe Seo) and an affluent dentist (Luke Evans), before his questioning soon ruffles some important feathers.
Those averse to the stereotypes informing the superficial layers of several supporting characters will most likely be appalled at the exploitative riffraff in Stephen Cornwell and Oliver Butcher's screenplay. And yet, this is a far cry from the duo's previous offerings, like Liam Neeson headliner Unknown (2011).
Alfred Molina as a lascivious and flamboyant film director is likely to rub culture critics the wrong way, as political correctness instinctively insists queer characters be held to a higher standard of always being likeable (even though reality dictates otherwise—humans exploiting other humans is garish and despicable no matter their sexual orientation or excuse). And yet, his performance is one of several delicious accents marking Du Welz's voyage to the US a delectably welcome one, recalling something like Paul Schrader's dark and dire Hardcore (1979), which starred George C. Scott as a father desperate to recover his daughter after she disappears into sex work.
A nearly inscrutable but commanding Boseman gives one of his most compelling performances to date, whose increasingly aggressive altercations (including the use of a number of inspired blunt objects, but he seems at his handiest with a bicycle chain) may lean into unbelievable territory (rest assured, several doubts are cleared up with a late revealed detail), but his prowess and frequency aligns Message from the King with the brutality of a Charles Bronson starrer along the lines of Death Wish (1974).
Luke Evans is convincing as a reptilian dentist (sharing some darkly comedic exchanges with Molina), but Du Welz manages to spackle some emotional depth via Teresa Palmer as one of those prostitutes with a heart of gold. Palmer does something quite masterful with a brief monologue which could have sounded schlocky by a lesser actress, but becomes rather haunting and poetic as she describes the melancholy realities of Los Angeles and a teeming population of transient residents.
It's clear Cornwell and Butcher have significant subtexts about the superficialities of the city, providing some unexpected comedy through Bianca's oddball neighbors, Trish (Natalie Martinez, one of the film's only weaker characterizations) and struggling actor boyfriend Bill (Jake Weary), playing vapid good-time types who don't know how to have a good time without going to extremes.
This time around, du Welz collaborates with DP Monika Lenczewska (Difret, 2014), together showcasing the unappealing pallor of the sprawling urban haze. And like the uneasy energy of his 2008 post-Tsunami Thailand set Vinyan, there's a mysterious, unsettling energy to Message from the King, recalling something a bit more vintage, and a bit more formidable, like the Val Lewton produced Mark Robson film The 7th Victim (1943), where innocent Kim Hunter has to track down her older sister, a woman sucked into the clutches of a Satanic cult.
Du Welz isn't treading into supernatural, but peels back the deep layers of degradation which led his missing sister past a point of no return, to a heart of darkness alive and well beneath the sun dappled skies of Los Angeles' glossy veneer.
★★★½/☆☆☆☆☆
Reviewed on September 9th at the 2016 Toronto International Film Festival – Vanguard Programme. 102 Minutes.