Sweet, Silly November: Donaldson's Espionage Thriller is Overbaked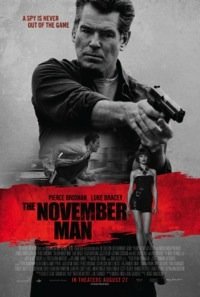 Starting out with a standard template of flourishes one can find in any number of garden variety spy thrillers, Roger Donaldson's The November Man gets a lot of credit for being unexpectedly agile and energetic, generating mild tension as appropriate and even utilizing cast members more effectively than most B grade members of its species. But like a semi-talented juggler that takes on one ball too many, Donaldson's film of furiously committed and concurrent clusters end up smashing into each other to concoct a rather silly and sallow end product. What's unfortunate is that there are a couple likeable elements to the feature that make it entertaining to sit through, and one only has to compare this to Donaldson's last film, the wretched Nicolas Cage headlined Seeking Justice, to be thankful for at least that.
Peter Devereaux (Pierce Brosnan) is an incredibly well trained CIA agent that retires in 2008 after a botched operation in Montenegro results in the death of a child at the hands of his hotshot protégé, Mason (Luke Bracey). Five years later, retiring to Switzerland, Devereaux is reactivated by old pal Hanley (Bill Smitrovich), who calls on him to extract a spy from Moscow. She's discovered the identity of a woman who can prove that Arkady Federov (Lazar Ristovski), slotted to be the next Russian president, plotted with the CIA to blow up his own people in Belgrade back in 1999, the impetus for the Second Chechen War. However, the agent won't reveal the name until she's taken to safety. But just as Devereux gets to her, she is murdered on orders from the CIA, causing Devereaux to go off into his own search for the mysterious young woman, who is now being hunted on all fronts, including by an assassin (Amila Terzimehic) hired by Federov to kill anyone that knows anything about his past crimes. All roads lead to the beautiful social worker that saw her last, Alice Fournier (Olga Kurylenko).
The November Man is the second major title to deal specifically with the 1999 Second Chechen War, the other being Michel Hazanacivius' misaligned drama The Search. Both films feel incredibly ham-fisted in their cinematic rendition of the horrific event, while there's something unmistakably exploitational about Donaldson's film, based on the novel There Are No Spies by Bill Granger. Gore hounds will surely be delighted at the prolific amount of violent retribution enacted on the Russian and American baddies with more bullets going through heads than you can count. Try as it might to hang its revenge fantasy on the corpse of a notorious atrocity, the skin doesn't fit quite right, and The November Man would have been a more potent thriller had it strayed clear of this land mine, a subject it can't possibly grapple with seriously enough.
Though a bit paunchy, Brosnan proves to be surprisingly robust, hardly the dry curmudgeon one may have been expecting. He manages to squeeze a workable chemistry out of his relationship with the character played by Luke Bracey, a sort of handsome yet unremarkable presence you might mistake for a Hemsworth several scenes into the film.
Also on the post-Bond career track (and don't forget Lazar Ristovski on that front, the Russian performer who appeared in Kusturica's Underground was also in Casino Royale), Kurylenko is a nicely subdued social worker that gets involved in the film's most improbable twist, leading to a silly sequence that finds the beauty don a hooker costume that looks more like a Velma Kelly costume from Chicago. How her character is ultimately used in the narrative makes nearly all of the film's hard earned flint evaporate. Bill Smitrovich, his "Life Goes On" days long behind him, staunchly chews through scenes, as does the usually dependable Will Patton, here enforced with a hair piece.
Once all these disparate elements lay all their cards out on the table, The November Man's sometimes promising energy spins something workable into a real mess. A pity since it had the potential to be a stronger than average B thriller, though your ability to overlook its sillier aspects may make it seem more salvageable.
★★/☆☆☆☆☆