Reviews
The Strange Colour of Your Body's Tears | Review
A Woman in Trouble and a Man in Need: Forzani & Cattet Return Prove a Force to Reckon With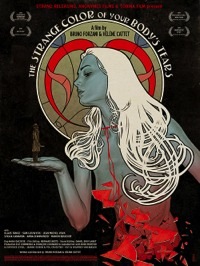 Directing duo Helene Cattet and Bruno Forzani follow-up up their 2009 debut Amer with another hit from the giallo pipe, The Strange Colour of Your Body's Tears, a visual masterpiece that will confuse, confound, and hypnotize you as it's one of the most visually extravagant explorations of the gaudy and grotesque ever committed to film. Certain to be rejected by mainstream sensibilities, Cattet and Forzani go beyond just another stylistic homage to create a creepshow that actually surpasses its predecessors with its expert level of artistic and technical prowess.
The plot seems to be transparently simple, yet spurts into a labyrinthine odyssey of revolving tangents and alternate perspectives that make it seem anything but. Dan Kristensen (Klaus Tange), a Danish man living in Brussels, returns to his art nouveau apartment from abroad and discovers that his wife Edwige (Ursula Bedena) has mysteriously disappeared. What's most frightening is the fact that the door chain is still in place, meaning however she left, it wasn't through the front door. In a panic, he scours the building and pesters neighbors, bringing him in contact with a creepy lady in apartment 7 who sits in the shadows, face shrouded, and relates a spooky tale about her own husband's recent disappearance, related, it seems, to the beings living within the walls. A supercilious detective (Jean-Michel Vovk) only seems to complicate matters, while an angry landlord (Sam Louwyck) is more concerned at Dan's bothersome insistence that Edwige may have never left the apartment building.
While the narrative thrust is aggravated at every turn by veering off into subplots involving tangential characters that may not directly correlate, they establish an acute ambiance of mayhem, murderous intentions, and sadomasochism, structured as if under the influence of morphine (or poppers). Stylistic flourish dictates every color-soaked, pulsing shot. A freeze frame sequence depicting the demise of a character named Ursula dances scintillatingly across the screen. A gouged out eyeball is surely the best ocular destruction since Bunuel's Un Chien Andalou.
As with Amer, the score is a compilation of actual music from a variety of giallo flicks. Likewise, the sound design competes for center stage with Manuel Dacosse's astounding cinematography. Truly, whatever your thoughts are on the subject matter, the vibrant, pulsating imagery is too decadently alluring to look away, an entity wholly unto itself, something very few films can match in the cinematic medium. True, there's not much in the way of characterization in The Strange Colour of Your Body's Tears, a delicious title that's a direct homage to classic giallo titles, like the Edwige Fenech starrer The Strange Vice of Mrs. Wardh, 1971 (the film's title and thematic elements also recall a similarly indulgent title Your Vice is a Strange Room and Only I Have the Key, 1972). But if you give into its lusty charms, you won't be disappointed in its endless delights, surpassing the intensity of many titles it owes its existence to.
Reviewed on September 7 at the 2013 Toronto International Film Festival – Vanguard Programme.
102 Mins