Beasts of the Southern Wild: Minervini Continues Fascination with American Rural Dysfunction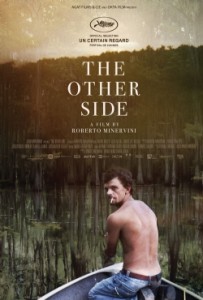 One can't help but recall the refreshing yet uncomfortably toxic memories of Harmony Korine's 1997 directorial debut Gummo while wading through America's southern hinterlands with Roberto Minervini in his latest slice of visual poetry, The Other Side. Abandoning the safety of fiction for documentary, the Italian director seems committed to his fascination with the travails of rural Americans existing in forgotten pockets of the country.
Previously helming a trio of films referred to as his "Texas Trilogy," ending with 2013's Stop the Pounding Heart, this latest portrait focuses on a group of swamp denizens in their daily routine. The extreme dysfunction and indefatigable ignorance of the subjects makes Minervini's motivation suspect. Like Jean-Charles Hue's narrative hybrids concerning a specific gypsy community in Northern France (Eat Your Bones, 2014), Minervini presumably wishes to explore an oft neglected population. But unlike Hue or even Korine, Minervini's documentary, though arguably 'objective,' seems questionably exploitative. Those less sympathetic will most likely be repulsed, disgusted, or wage begrudging pity towards these people, but never does it play like something more than an incredibly well presented example of the gross economic disparity responsible for breeding such pockets of degradation.
Our focus is mostly placed on Mark Kelley and Lisa Allen, a wayward couple we follow as they get high, have sex, and suffer through stilted, sometimes demeaning conversations about life, love, and liberty. Between all the drugs and sex, freedom is the concept bellowed about by Mark and his neighbors, a privilege they believe is about to be taken away from them by the impending threat of martial law and the United Nations. This explains the military/boy scout training drills also taking part in the area, the men readying themselves for an inevitable peril. Just as Minervini's languid pace and DoP Diego Romero's often beautiful shots of the wilderness surrounding this strange madness prime a subtle sympathy for Kelley, Allen, and everyone else's unavoidable self-destruction, racism and ignorance tempers the empathy. The swamp folks are viciously critical of Obama, apparently placing most of the blame for their current state on him, the term Obamacare derisively sneered into a mix of the general degrading terms (recalling Melissa McCarthy's white trash Tammy as she lights a car on fire) despicable and ignorant white folks use to refer to black people.
With Obama blamed for their lack of employment opportunities, we are treated to an uncomfortable sequence featuring a real classy young lady in an Obama mask as she fellates a dildo held between a shirtless man's legs while a circle of other men leer. Stunts like this call into question the authenticity of this portrayal, as surely some of the sex, drugs, and ridiculous immaturity has inspired them to 'perform' while being filmed. The same can be said for a pregnant stripper we watch shooting up moments before performing on her stage—what exactly is Minervini's end goal besides showing the unsurprising amount of degradation going on in these climes?
Mark's plight, which includes caring for his terminally ill mother the best he can, would seem to mark him as Minervini's compassionate subject. But to divorce pity, reluctant judgment or undeniable feelings of distaste may prove to be too difficult for many to overlook in their considerations of Mark and his community. Regardless of all this, Minervini proves to be an increasingly intriguing filmmaker with these cinematic explorations, and there's no denying the underlying beauty on screen in The Other Side, a documentary sewing together flourishes of the sacred and profane.
Reviewed on May 21st at the 2015 Cannes Film Festival – Un Certain Regard. 92 mins.
★★★/☆☆☆☆☆