Love Thy Neighbor: Moss Finds Faith In Oil Boomtown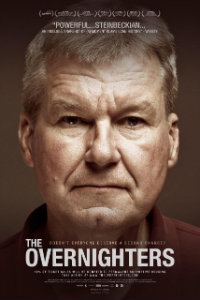 In the small town of Williston, North Dakota, a modern day boomtown is growing exponentially as men down on their luck and desperately seeking work flock with hopes of being hired in the newly fracked oil fields that surround the town. This influx of migrant workers has brought an unforeseen strain on the community, as the large majority of them ride by bus or train into town with nothing more than a bag full of cloths and a heart full of hope, and hence, have no where to sleep. Those that do manage to drive themselves out in beat up minivans and lived in winnebagos have very few places to legally sleep in their vehicles. Enter Pastor Jay Reinke and his overnighters program that allows these world weary men to take refuge after dark in the Concordia Lutheran Church, much to the dismay to the congregation and the community at large. With The Overnighters, director Jesse Moss follows Reinke as he risks all he has for what he believes to be right, and in doing, all manner of heart-wrenching happenings test his faith, not in god, but humanity.
Of the hundreds that flow in in search of work, Moss zeros in on a handful of men, each with their own ghosts tailing close behind. Some, family men hoping to fix their families financially by leaving them behind, eventually realize the extra strain they've placed on their wives and children by not being home. Others, drug addicts, sex offenders and rehabilitating convicts come to Williston in search of a new beginning. Reinke greets each one with a warm welcome, a brief background interview and a stern set of ground rules. In rotation these characters float in and out, in similar patterns of appreciation and eventual renunciation. In these continually familiar interactions a grand scale of philosophic questions arise that transcend the mundanity of small town politics. Is it possible to outrun one's past or shed the skin of past sins? What does it theologically mean to love thy neighbor? What breeds fear? Is the church meant to serve solely the devout congregation as a ritualistic source of comfort or is it truly an institution built to preach the gospel and heal the spirits of anyone and everyone in need? The tension between the pastor and the populace becomes palpable.
Firm in his beliefs, yet valiantly open hearted in his ambitions, Reinke proves to be true of heart and more human than anticipated. His story is one of immense personal sacrifice that sees his patience pulled taut and his own sins made public. In the film's most central conflict, with the blessings of his family, the pastor decides to secretly take an African American sex-offender into his own home in order to rid him from the publicly monitored church parking lot in which he was sleeping. This frames him as a heroically moral figure, yet calls into question his ethical judgement. The locals live in fear of these roaming intruders, while Reinke covertly and overtly promotes their inclusion in the community. Is it an inability to say 'No' that strickens the pastor, or is it an unconscious personal need, a gluttonous voracity even, to embody the good word? Like the small town itself, with its bedrock obliterated by the irresponsibility of oil fracking and its population growing with temporary greed, Reinke's life becomes erratically unstable. Moss documents this struggle with immense intimacy while never dismissing the larger issues at hand. The Overnighters sees the filmmaker once again spinning an ethically complex yarn, broad in its thematic ambitions, yet auspiciously concise in its narrative scope.
★★★★/☆☆☆☆☆
Reviewed on January 19th at the 2014 Sundance Film Festival – U.S. DOCUMENTARY COMPETITION Programme. 100 Min