A Stolen Life: LaMarque's Debut an Entertaining, Borrowed Premise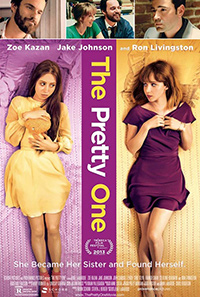 Identical twins and their cannibalistic tendencies have long been a fine cinematic tradition of the dramatic or thriller genres. Classic titles from Brian De Palma, a pair of Bette Davis headliners, Olivia De Havilland, Viggo Mortensen, those Parent Trap films, are all examples of the same actor playing identical twins, many of them featuring narratives where a less successful twin wishes to usurp the identity of the most prized of the pair. Of course, this generally leads to a morbid atmosphere. If writer/director Jenee LaMarque brings anything new to this idea it's that she turns this scenario into a romantic comedy, and with sometimes winning results. Of course, this tactic of re-tooling elements of film noir for modern romance isn't quite revolutionary either (see 90's films like While You Were Sleeping or Mrs. Winterbourne), and there's an oddly uneven tone to the initial set-up, but once it's premise is firing full steam ahead, a lead performance from Zoe Kazan is engaging enough to escape into.
Laurel has always seems to live in the shadow of her much more popular twin, Audrey (both played by Zoe Kazan). Whereas Audrey had lots of fun and boyfriends before moving off to the city to become a successful real estate agent, plain, sad, weird Laurel has wallowed at her rural birth home, taking care of their widowed father (John Carroll Lynch), even though he know has a new girlfriend. When Audrey visits to celebrate their birthday, she decides to take Laurel for a makeover. But on their way back home, Audrey dies in a fiery car crash, her body burnt to a crisp. Since Laurel had the makeover, everyone assumes she is Audrey, and she doesn't correct anyone on that detail. Upset at the lack of outpouring for the supposed demise of Laurel, she packs up to the city to move into her sister's apartment. There she discovers that her sister had been dating a married man (Ron Livingstone), which the new Audrey doesn't want any part of. Instead, she finds herself being drawn to Audrey's tenant, Basel (Jake Johnson), a man that Audrey had seemed to find repugnant and beneath her. While everyone seems to notice that Audrey has significantly changed, Laurel begins to discover her own identity.
As it unravels its initial set-up, The Pretty One feels a bit rote and unappealing. Frumpy Zoe Kazan vs. pretty Zoe Kazan is all a matter of one rather unenthusiastic hair-cut (and some foundation), so it all seems a bit silly that one gets likened to a model while the weird twin only seems rather introverted. As their father, John Carroll Lynch is saddled with another of those reserved creative types (stamp designer in Fargo, painting copies of the works of others here), while the seemingly ageless Ron Livingtson dons his asshole cap again, here again the uptight catch-all as we recently saw in Drinking Buddies. And speaking of Buddies, here we have Jake Johnson again playing the 'sometimes' loser going after a potentially unattainable female. But just as in Buddies, much of the film's charm is generated by his likeable performance, once again sparking chemistry with his female lead. And what a delight he has to play off of here with Zoe Kazan, an actress who's hard to dislike, even when you perhaps want to, and who often is better than the material she's starring in (The Exploding Girl).
So even though it hits all the requisite notes and predictably resolves all its dramatic tensions, The Pretty One is an enjoyable distraction that's thankfully not afraid to be a bit more adult about matters of sexual attraction. In the end, we're left with its rather obvious message that sometimes it takes being somebody else to discover who you really are.
★★1/2 /☆☆☆☆☆