The Forest for the Trees: Van Sant's Melodramatic Misfire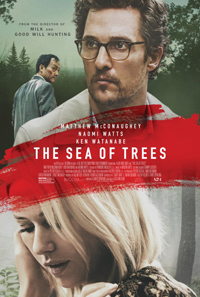 Gus Van Sant's name seems to conjure wildly different reactions depending on how accustomed one is to his varying filmography. Whether you're a fan or detractor of his period of 'slow' films, including 2003's Palme d'Or winning Elephant, or his mainstream appeal with beloved dramas like 1997's Good Will Hunting, one can't argue with a certain amount of dexterity on his part as a filmmaker. But those hoping for a sensational return to any tone in particular are in for a pointedly disappointing time with his latest, The Sea of Trees. Hopelessly melodramatic and embarrassingly affected, it's a film so emotionally tone deaf it makes Finding Forrester (2000) seem miraculous by comparison. Headlined by a high pedigree cast, awkwardly shuffled about in a revolving charade, the title is a major disappointment from the beloved filmmaker.
Struggling writer Arthur Brennan (Matthew McConaughey) mysteriously books a one way ticket to Tokyo in order to enter a dense forest, Aokigahara, known as The Sea of Trees. As he makes his way into the lush foliage, we realize the region is a place people come to kill themselves. At least we assume judging from the variety of corpses he stumbles upon before he takes out a bottle of pills and a yellow envelope with his wife's (Naomi Watts) on it. Interrupted from his misery by the sound of a human in distress, Arthur assists Takumi Nakamura (Ken Watanabe), who has been struggling to make his way out of the forest after a failed suicide attempt. As the men help each other, we come to find what it is exactly that brought Arthur to such desperation.
Certainly, the enigmatic locale lends a certain ambience early on, with our grief stricken protagonist wandering about the lush forest as if stumbling onto the same swath of dumping grounds from The Ballad of Narayama. But as soon as the dazed and confused Ken Watanabe joins McConaughey, acting as if he was transported from the set of Godzilla to resume bumbling around, things start to head south real fast. Many of the moments in the forest feel brief, as if Van Sant is all too aware that intense focus here will quickly reveal the banality of the situation. And so we spend an extensive amount of time in flashbacks of Arthur Brennan's. We've become readily accustomed to tell-tale signs of the stale, crumbling marriage, which screenwriter Chris Sparling (ATM) believes to be best conveyed via drunken skirmishes, particularly a cringe inducing dinner party that finds even the lovely Naomi Watts falling flat. And then we go on and on with their generalized middle class problems, leading, of course, to a medically related dilemma and a greater tragedy the film is so eager to divulge we see it coming a mile off.
Van Sant and Sparling save the best for last, however, in a third act wherein McConaughey outdoes his crying jag from Interstellar in multiple sequences. Such agony should be reserved for characters actually developed into entities we can feel something for, but the emptiness of The Sea of Trees instead only makes us feel bad for McConaughey, since we're left wondering instead how many takes each of those overwrought sobs took to complete. The cherry on top is the finale, a dose of schmaltz so high it flies over the horizon of camp into the realm of concern—how did no one question the abject silliness of this endeavor? The Sea of Trees sinks under the weight of this maudlin conceit, so candy contrived it will make your teeth ache.
Reviewed on May 15th at the 2015 Cannes Film Festival – Main Competition. 110 Mins.
★/☆☆☆☆☆