An Other Mother: Muylaert Scores International Breakout with Class Conscious Character Study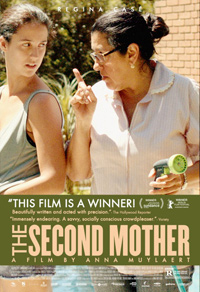 Brazilian director Anna Muylaert gets her first crack at international renown with her fourth narrative feature, The Second Mother, which premiered at the 2015 Sundance Film Festival where it snagged a special jury prize for acting before taking home an audience award on its next stop at the Berlin International Film Festival. Walking a fine line of between character study vs. social class soap box, Muylaert successfully avoids potential contrivances with a heartfelt portrait of its central character, allowed a significant arc presented with great eloquence from its leading performer, Regina Case, a local Brazilian icon now in her fifth decade as a celebrated actor.
Val (Case) is a domestic worker who lives with her wealthy employers Dona Barbara (Karine Teles) and Carlos (Lourenco Mutarelli) in Sao Paulo, tending to all the domestic chores associated with the house and basically mothering their lone teenage son, Fabinho (Michel Joelsas). It is clear Val is close to the boy, helping him reclaim the marijuana his mother robotically tosses in the trashcan after a lukewarm scolding at the dinner table (with all members tapping away at their cell phones rather than looking at one another). Val's biological daughter, Jessica (Camila Mardila, who shared the Sundance acting award with Case) has recently called to say she will be coming to Sao Paulo to apply to university, and Barbara graciously offers to let Jessica stay, though she's hardly interested as to why Val hasn't seen her kid in over a decade. Immediately upon Jessica's arrival it is evident the headstrong young woman has no patience for being treated as a second class citizen, chastising Val for letting herself be demeaned. Eventually, the girl's presence inspires certain reactions, both negative and positive.
In many ways, The Second Mother is reminiscent of Chilean director Sebastian Silva's first international success, 2009's The Maid, which won the World Dramatic Award at the Sundance Film Festival that year. Though more acerbic, that narrative presented a family with a stronger investment in their live-in help, a woman terrified at the prospect of replacement.
Muylaert's intentions are fashioned a bit more bluntly, with Val's privileged employers presented with a series of perverse characteristics immediately courting our disgust. A pudgy milquetoast moron stuffed into a variety of fashionable ensembles as she flutters about with false importance, Karine Teles perfectly embodies everything we aim to despise about the types of humans who find it appropriate to underpay and overwork economically compromised people from less fortunate backgrounds. "There's no secret to style," she informs a journalist interviewing her near the pool, an area of considerable class conflict we're soon to witness, ironic because she has absolutely none.
The arrival of the daughter and her self-imposed invitation to stay in the guest room suite instead of a mattress in her mother's cramped room without air conditioning brings DoP Barbara Alvarez to one of her favorite items to frame in The Second Mother, the symbolic staircase, an eerie apparatus signifying social order. In more ways than one, Val's daughter is clawing her way out of the pool of the disenfranchised—she's studying to be an architect, passing her entrance exams to university, soon to be building and designing her own means of social ascension. But what makes The Second Mother more than another exercise of unavoidable class clash is the relationship between Val and her estranged daughter.
Initially, Val is a bit perturbed by Jessica, more comfortable with the company of coddled teen Fabinho, who comes running to Val for all his emotional support. But Val finds Jessica too confident. "She's too sure of herself," she remarks, cuddling with Fabinho, who crawls into the maid's bed on a frequent basis. The events that transpire brings about a mutual and subtly touching respect from both their perspectives, presented realistically and naturally without a dependence on overblown drama.
Though it doesn't try to make amends for all these people's shortcomings, Val's included, it does end on a promising note of hope for a more fulfilling, worthwhile future.
★★★½/☆☆☆☆☆