The Ballad of Franks and Beans: Stephens' Dips Toes and Other Bits into Political Scandal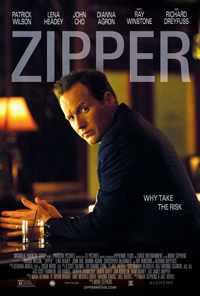 It is still very much a man's world, or so the expectedly corrupt judicial landscape seems to be sighing as it unrolls before our eyes with near clinical precision and predictability in Mora Stephens' sophomore feature Zipper. Another politically minded effort, her first feature in a decade since 2005's Democrat/Republican ideals face-off Conventioneers, this thriller skirts in and out of issue concerning addiction and the abuse of power without really delving into either beyond superficialities. Featuring a notable, comely cast and co-written by Stephens' spouse Joel Viertel, there's a dark cynicism managing to rear its face from time to time, but given we're never surprised or endeared towards this group of slow-to-strike piranhas, this scandal sheet is a tale as old as time.
Sam Ellis (Patrick Wilson) is a federal prosecutor on the cusp of greater success. His beautiful wife Jeannie (Lena Headey) has given up her successful career as a lawyer to focus on his—she has ulterior motives as she plans on being First Lady one day. As Ellis eyes a seat in Congress, certain cases at work bring him in contact with temptation. A drunken kiss with a co-worker leads Ellis to look-up an escort service after a call-girl is involved in a case of his. Circling around the notion of hiring one, he takes the plunge, and soon finds himself addicted to the high. However, his political career now has people digging around in areas of his life they just shouldn't be, threatening to destroy the solid foundation of his life and career.
Patrick Wilson gives an utterly believable performance as a suave prosecutor still learning to flex the far reaching abilities of his privilege. His is the usual slippery slope trajectory into sin—it's hard to believe a man so zealous for sexual relief with unfamiliar women would have abstained from doing so well over a decade into marriage. Stephens and Viertel have no interest in saying much about the day-to-day existence of the Ellis family (we see the kid fleetingly), instead focusing on the power hungry aspirations leading Lena Headey (increasingly reminiscent of Billie Whitelaw in her villainous, reptilian mode) to turn a blind eye from hubby's indiscretions.
Unfortunately, Zipper seems too excited to land Ellis in the hot seat, and by the time we're left to wonder if his involvement with a moderately well-established escort service will seal his fate it seems as if we've skipped a stage from fanning the flames to hard-on boil. A series of notable faces float around in the periphery, although they never quite feel utilized beyond the barest of necessary narrative duties, like Christopher MacDonald as his boss, Ray Winstone as a nosy journalist (who has, let's say, an interesting relationship to the Headey character), and an amused Richard Dreyfuss as a political usher to greater heights of power to abuse (he gets the dialogue duty specifically explaining the rationale for the title). The handful of call girls seem rather familiar, and they all aesthetically blend together into the usual porridge of pleasure seeking, a round of actresses like Alexandra Breckinridge, Penelope Mitchell, and Dianna Agron (yes, she's an intern, but you know) only proving Wilson's Sam likes them young, willing, and ready. John Cho shows up too, though not really to do anything.
The opening of the film rather succinctly indicates where this gilded lily is headed. In the midst of a court case, Sam's willowy intern discusses celebratory drinks, though Sam advises they don't know if they'll have cause to celebrate yet. "There's no way you'll lose," she smiles. Indeed, it seems Sam leads the kind of charmed life often seen in genre films where someone makes a deal with the devil. And perhaps, if that's the only point Stephens wants to make, then the film certainly successfully conveys such a deal is hardly necessary for a white, heterosexual man allowed to treat the world as his oyster. And yet, Zipper feels too routine, especially for the promise of thrills it's all dressed up in.
★★½/☆☆☆☆☆