Reviews
The Secret Life of Walter Mitty | Review
Life is Like a Box of Chalk: Stiller Revamps Thurber for Hollow Melancholy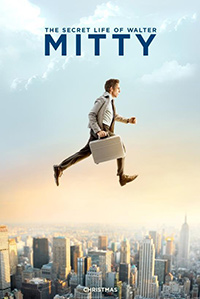 With its soaring visuals and dizzying soundtrack of expertly placed tunes to inspire the melancholy soul, Ben Stiller's latest film, The Secret Life of Walter Mitty, plays like the visual counterpart of a sugar high—a package that initially seems primed to stir emotions but tends to fizzle out without a substantive payoff. Based, in part, on a short story by James Thurber, which also provided the basis for a 1947 musical starring Danny Kaye, Stiller and screenwriter Steven Conrad (who insistently returns to the regular-Joe-breaking-his-mold motif), neglect to instill emotional depth to this adventure about bettering oneself, distracted by its own gloss and terms of endearment, as if Michael Bay were trying to emulate Wes Anderson.
Walter Mitty (Ben Stiller), a negative asset manager at prestigious Life magazine, lives a drab existence, disappearing into his own fantasy world of various adventure of which he is always the hero, or, at least a better version of himself. We meet Walter in his humble apartment, neatly balancing his checkbook, our first indication that he doesn't seem to be directly engaged in current customs of the metropolitan. But now he's even more inclined to escape into his head as he fawns over Cheryl (Kristen Wiig), a recent addition to the staff. But dark times loom over the universally beloved mag with the appearance of Ted (Adam Scott), a transition supervisor tasked with making the company an online only publication as the staff works on the very last printed issue. Of course, this means major layoffs. Walter's been at the company for sixteen years, but Ted immediately takes a dislike to the soft-spoken introvert.
When famed photojournalist Sean O'Connell (Sean Penn) sends a new negative directly to his friend Mitty to grace the cover of the last issue, it's mysteriously missing from the package. A long awaited conversation with Cheryl motivates him to track down the whereabouts of O'Connell, which sends him to Iceland and Greenland, but he is forced to return empty-handed. Mitty is blamed for ineptitude and promptly laid off, the final straw that will motivate him to venture out once more into the world and discover new facets of himself.
Oh yeah, Shirley MacLaine and Kathryn Hahn star as Walter's mom and sister, but they're relegated to window dressing conveniences, presumably not pared down completely because they're necessary for the unraveling of Walter's adventure to find the elusive Sean O'Connell. The strongest asset of The Secret Life of Walter Mitty is cinematographer Stuart Dryburgh, who regularly works with Jane Campion and Mira Nair. Between Mitty's fantasies, which are impressively edited as any slick little trick from a superhero movie, there's a highly stylized look to the film, as if every frame is carefully designed to look like it could be a Life spread that, pun intended, comes to life.
A series of song selections meant to inspire emotional involvement in the sweeping scenery do just that, but not in conjunction with what's going on with Walter Mitty. You can blare Arcade Fire all you want, but major sequences that seem to want to be genuinely emotive just aren't. In fact, the film's preview, which features "Dirty Paws" from Of Monsters and Men provides a more satisfactory emotional distillation of Walter Mitty and his issues.
Stiller, an underrated dramatic presence (as the more recent Greenberg is a testament of), perhaps has directed the film a bit too clinically—we never really get to empathize with Walter Mitty, who just seems a sad sack that is plucked from banality into a fantasy of a fantasy. Since nothing seems remotely realistic about being dropped into shark infested waters, erupting volcanoes, or scaling the mountains of Afghanistan for glimpses of snow leopards, there's nothing to be emotionally invested in. Everything about the film is begging us to feel something for Mitty, but, alas, it's all bullshitty cornball.
Wiig, who does her endearing best, is also not given much of a character to work with. A recent divorcee with a skateboarding kid, who just got hired at Life a month ago, everything about her reeks of convenience. Adam Scott plays the bearded executive version of his Vicious Kind persona and, most woeful of all is a gimmicky role for Patton Oswalt as an eHarmony representative that calls Mitty personally throughout the entire film to chat about life (and yes, eHarmony is only one of many brand name product placements scattered continually throughout).
A tonally dissident aside of a fantasy revolving around The Curious Case of Benjamin Button gets some laughs, but at the end of the day, The Secret Life of Walter Mitty fails because it is contrived, an inorganic exercise about what it means to get out of your comfort zone and go for broke. This is the childish fantasy of what that's supposed to look like.
Reviewed on November 15, 2013 via a Film Independent Forum screening w/Elvis Mitchell moderating a Q+A with director Ben Stiller.
2/5 Stars