Reviews
The Wolf of Wall Street | Review
Greed Is Great: Scorsese's Latest a Coke Fueled, Orgiastic Comedy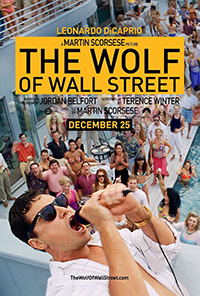 Reconstructing the based on a true tale account of one Jordan Belfort's rise through the ranks of late 1980's Wall Street as the Machiavellian head of his own stock broking firm, Scorsese's crack at period piece white collar crime with The Wolf of Wall Street is, undoubtedly, the auteur's most comedic effort to date. The savage power struggles dictating the vicious motivations within his classic Mafioso films are a far cry from the obscenely gonzo antics of someone like Belfort, and while there's not quite the sensationalism or emotional resonance to be associated with Belfort (which makes for a rather tedious set-up, and it's saying something when Scorsese can make ruthless mobsters feel more empathetic then the greedy good times guys here) it's an enjoyable return to the director's towering and gloriously decadent epics of that omnipotent black hole, the American (greed) Dream. Scorsese allows one passing reference to Oliver Stone's 1987 classic, Wall Street, in which Belfort is compared to Douglas' slimy Gordon Gekko, who utters the famous "Greed is good," phrase. But Scorsese' rendition of Belfort is much more unhinged, more exponentially hedonistic than Gekko. In Belfort's universe, greed wasn't just good, it was great.
At the age of 26, Jordan Belfort (Leonardo DiCaprio) became a multi-millionaire with his self- founded brokerage house, Stratton Oakmont, which was built from the ground up with a group of twenty other crooked stockbrokers, one of which was his right hand man, Donnie Azoff (Jonah Hill). A divorce (Cristin Milioti), a trophy wife (Margot Robbie), and a decade later, a tenacious FBI agent (Kyle Chandler) would finally bring the egotistical moneyman to his knees, only to see him prosper after prison as a successful author and motivational speaker. In betwixt these benchmarks there's a scurrilous surplus of hookers, drugs, and enough obscene decadence to numb either extreme of the political and/or good taste spectrum.
There has been much anticipation concerning an orgy scene, and, yes, Mr. DiCaprio demurely sports his back side once or twice (once with a lit candle stuck between the cheeks), but it's hardly remarkable when compared to a handful of other over the top stunts, including the flinging of little people onto a Velcro target, a rather (enjoyably) awkward kiss with Joanna Lumley, crack smoking, coke snorting into a prostitute's anus, and, best of all, the funniest Quaalude sequence perhaps ever committed to film.
For most of its rather lengthy running time, Scorsese and DiCaprio walk a fine line around falling into the gonzo, but the Lemmon Quualude sequence is full tilt boogie. And while there's never a fully realized emotional moment to the vast array of crooked characters inhabiting the film's universe, it's certainly incredibly acted and memorably entertaining. What's more impressive is that we're drawn into a world significantly repellant during the painstaking set-up, where the smarmy Belfort makes his entrance into Wall Street and discovers how to make his own successful stock broking firm after the 1987 travesty of Black Monday. He's shown to be charming, but he's incredibly repulsive, so it's impressive that an even more unlikeable character, played with great hilarity by Jonah Hill, often manages to supersede him.
Screenwriter Terence Winter, creator and writer of "The Sopranos," has written a marvelously comedic script, with howlingly funny bits of dialogue. But perhaps its most magnificent accent is the delightful DiCaprio in perhaps his best union yet with Scorsese. It's a gargantuan performance, something we rarely see in cinema lately, and DiCaprio is reminiscent of a crazed Jack Nicholson, but not as homage; rather the sheer ferocious energy evident in every frame.
On the downside, there are several instances where it feels as if Wolf was hastily edited in order to make a Christmas Day release date (already pushed back several weeks), including a few minor, yet noticeable continuity errors, even though an impressively aligned supporting cast whirls in and out frame (Jean Dujardin, Matthew McConaughey, Spike Jonze, Jon Favreau, Shea Wigham, Rob Reiner) for a variety of delightful distraction. Laugh out loud funny, maudlin, depressing, salacious, and smug, Scorsese' The Wolf of Wall Street is as coke bloated as they come, but it arrives just in time to christen cinemas at the latter end of the year with one its most promising entertainments.
★★★★/☆☆☆☆☆