Scrambled Transmission: Eubank's Sophomore Effort Relies on Visual Strengths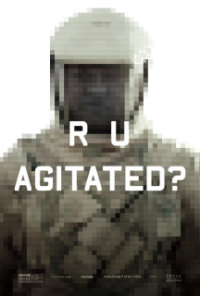 William Eubank expands his brand of cerebral sci-fi with sophomore effort, The Signal, following up from the 2011 space set debut, Love (which might be interesting to revisit after the success of Gravity). With incredible ingenuity, this lo-fi concept is showcased within an amazing visual design, and the fantastic look of the film blends perfectly with a creepy and unnerving set-up. However, about mid-way through our main characters' ordeal, substance begins to feel a bit eschewed for style, the narrative hitting a rather stale plateau as it coasts to a dramatic third act with a compounded twist that would have seemed more effective had there been sharper development of its ideas.
Three college students are on a road trip across the Southwest on a mysterious mission to track down a computer genius that hacked into MIT's security system, something which Nic (Brandon Thwaites) and his best friend Jonah (Beau Knapp) were apparently blamed for. Nic, who used to be a long distance runner but is now impeded by multiple sclerosis, has brought his girlfriend Haley (Olivia Cooke) along for the trip, though their relationship is fraught with tension due to her impending relocation for a year.
As they continue to track the hacker known as Nomad, they think they locate his whereabouts from an IP address and sneak into an abandoned shack in the middle of the woods. Suddenly, something goes wrong, and everything goes dark, with Nic awakening in a strange medical facility surrounded by men wearing Hazmat suits. He is interrogated by the lead administrator, Dr. Wallace Damon (Laurence Fishburne), where we gather that Nic and his friends were contaminated by something dangerous. While Nic spies Haley located within the same facility in a coma, he converses with Jonah through the vents. Or is he? The more Nic begins to discover about what's going on, the more irrevocably dire his mysterious situation seems to be.
For a film centered on three teenage protagonists, The Signal manages to avoid feeling adolescent (to be fair, none of them are fully fleshed out characters), and lead Brandon Thwaites, who appears in several notable 2014 title including Oculus, The Giver, and Maleficent, is a likeable young presence. However, beyond Thwaites, none of the cast members are really allowed to make much of an impression, the ever dependable Laurence Fishburne as a soothing and monotonously controlling scientist whose mysterious reveal isn't all that compelling (despite displaying yet another arresting visual sequence).
The delightful Lin Shaye shows up for a pair of scenes as a wackadoo named Mirabelle for some odd humor, but all of these take a back seat to how Eubanks and DP David Lanzenberg manage to make The Signal look a lot more striking than its actual budget would make you assume. Unfortunately, some tightening up of the narrative would have made this all the more effective, including a more memorable title (a 2007 sci-fi triptych already bears this moniker, plus there's that 2013 Fishburne sci-fi flick The Colony that pops up in recent memory as well). It's certainly worth a look—and perhaps, at best, promises greater things to come from Mr. Eubanks.
★★½/☆☆☆☆☆