Reviews
Violette | 2014 Los Angeles Film Festival Review
Portrait of an Artist: Provost's Examination a Showcase for Devos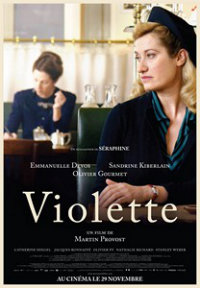 Continuing with the resuscitation of another female artist, which was the subject of his 2008 film Seraphine, an international success, director Martin Provost examines the life of author Violette Leduc with the simply named Violette (also the title of a late 70's film by Chabrol starring the young Huppert as a murderess—also a true story). While comparison to his previous work may potentially render a less favorable critique of this latest venture, it's still a compelling resurrection of an author whose reputation is still overshadowed by her more famous mentor and contemporary, Simone De Beauvoir. As a portrait of the relationship between these two women, the film is exceptionally engaging and engrossing. Emmanuelle Devos and Sandrine Kiberlaine deliver rewarding performances, strikingly at odds as they are genuinely complimentary.
During WWII, Violette Leduc (Emmanuelle Devos) is hiding in the countryside with author Maurice Sachs (Olivier Py). They pretend to be a married couple, but it's made immediately apparent that Sachs is gay and, in the opening voiceover, we surmise that Leduc considers herself to be particularly unattractive. Throwing herself constantly at Sachs for sexual gratification, he eventually leaves her behind, but not before convincing her to begin writing herself. Slighted by her upbringing as a bastard, Violette struggles to support herself dealing on the black market after the end of the war, plus helping out her mother, Berthe (Catherine Hiegel), though they have a rather complicated relationship. Finishing a manuscript, Violette eventually aligns herself with the increasingly notable Simone de Beauvoir (Sandrine Kiberlain), who quite likes Leduc's first novel. As the two begin a friendship, one that becomes romantically inclined on Leduc's end, De Beauvoir introduces her to a coterie of notables, included Camus, Sarte and his protégé, Jean Genet (Jacques Bonnaffe), who would base his play The Maids on Leduc, and eventually a rich benefactor, Jacques Guerin (Olivier Gourmet).
Leduc and de Beauvoir are established as dueling schools of feminist enlightenment. Kiberlaine plays the famed author as warmly severe, an academically inclined mind churning out some of her most prolific work during her interactions with Leduc, who is shown as emotionally overwrought as played by Devos, a clinging and cloying fury of need and belonging. In comparison to Kiberlain's other recent work, where she's often cast as the gawky, comedic figure (including her Cesar winning role in last year's 9 Months Stretch), her presence as Simone De Beauvoir seems uncharacteristically cerebral and it's an interesting role for the talented actress. But there's no question that Violette belongs to the ever impressive talents of Emmanuelle Devos, here with what looks like a slight prosthetic nose, playing a woman whose considerable talents are as omnipresent as her more unsightly faults as a melodramatic thunderstorm of sensitivity and low self-worth. Her sexuality, which was very frankly expressed in her autobiographical works, is thankfully not shirked away from here, her relations with men and women openly explored (at least in conversation) in ways that publishers were often trying to censor.
Of course, Provost's film heavily insinuates that De Beauvoir championed Leduc precisely because she was writing the types of raw, unfashionable feminist statements that De Beauvoir herself maybe couldn't dare to. If there are lulls in action, they're constantly broken up by a series of outbursts from the volatile Leduc, several of which are rather moving emotional monologues about the nature of motherhood vs. womanhood, and how an abortion and instances of unrequited love have informed and even warped her.
If Violette is less visually striking than the painterly Seraphine, it's no less a handsomely photographed film, often sandwiched into the cramped and less than desirable living quarters of Leduc, who lived most of her life in poverty. To associate the film with literary mechanics, it seems Provost chose to divide the film via chapters for each of the character's names, though this quickly begins to feel superfluous.
Reviewed on June 15 at the 2014 Los Angeles Film Festival – International Showcase.
★★★½/☆☆☆☆☆