Turkey Dressing: Crowe's Well-Intentioned Debut Ultimately Mundane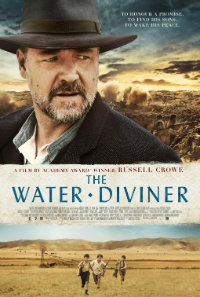 In the comparable tradition of Mel Gibson and Kevin Costner, actor Russell Crowe makes a big budget, historically relevant directorial debut with The Water Diviner, a World War I Australian drama. As penned by Andrew Knight and Andrew Anastasios, both writers accustomed to writing almost exclusively for television, the film's significance is straightjacketed into a garden variety of manipulative clichés, replete with an unnecessary and oddly provoked romance that ends an otherwise workmanlike tale of woe on a sour note.
Beginning in 1919 Australia, well-digger Joshua Connor (Crowe) lives alone with his wife (Jacqueline McKenzie), using his powers of water divining (basically a concept where a stick or similar apparatus is used to steer a user toward a water source—often called water witching) to continue their idyllic farm. All is not well with the Connor's, as he comes home to the usual ritual wherein his wife demands Joshua read to their three sons from Arabian Nights before bedtime. Except that their boys all died four years ago when they left to fight with Australian and New Zealand troops (the Anzacs) against the Turkish army in what was known as the 1915 offensive on the Gallipoli peninsula. Drowning herself moments later, Joshua buries his wife and travels to Constantinople to begin the search for their sons' corpses in order to honor his wife's wishes they be properly buried on consecrated ground at home. Once there, he meets a beautiful woman (Olga Kurylenko), waiting patiently for her own husband to return home. Foregoing the political redtape (represented with a rather campy turn from Dan Wyllie), Conror manages to make it to Gallipoli, where he unites with the leader of the enemy agent, Major Hasan (Yilmaz Erdogan) to find his boys.
Crowe's portrayal of the Biblical character Noah in Darren Aronofsky's 2014 film undoubtedly will spark a few jokes in reference to this directorial effort's title. The mystical angle of Crowe's melancholy farmer and his ability to find water hovers on the periphery to the extent that it seems more of a distraction, a hint of magic that's never properly addressed. Sure, we can project several angles of symbolic intention, as water provides the sustenance that unites all living things on the planet, no matter race or creed. And a well of gushing water as a lifesaving force bookends the feature. But if the narrative moreso recalls Spielberg's 1998 film Saving Private Ryan, Crowe's product hopelessly pales against a native comparison in Peter Weir's 1981 film Gallipoli, famously starring Mel Gibson as one of two soldiers fighting within the same region depicted here.
The Water Diviner isn't without its merits, featuring some fantastic cinematography by Academy Award winner Andrew Lesnie. And Crowe's film is more emotionally effective in its smaller details, such as when Connor stampedes to save his boys from a deadly dust storm. Less effective are routine bids for emotion as when he's fishing his wife's dead body out of a pond, or during the manipulative flashbacks to battle that his character 'divines' once he reaches the site of conflict. While Jai Courtney is relegated to playing a reserved voice of reason, Crowe's casting of well-known Turkish actors Yilmaz Erdogan and Cem Yilmaz tend to save the film's dramatic integrity, particularly Erdogan, who exudes a perfectly dry sense of humor in a portrayal that could easily been shackled to the customary guilt-ridden nobility we're accustomed to seeing in examinations such as these.
Unfortunately, Crowe's navigation of romantically inclined waters is less satisfactory. Though initially compelling, the plight of the potentially widowed Ayshe, about to become a 'kuma' (a second, simultaneous wife to her brother-in-law) played more less effectively by Olga Kurylenko, develops into a strained subplot only meant to foster a cookie cutter romance with Crowe's Connor, now on the market as a well-intentioned bachelor. His manipulative bonding with her son feels forced, resulting in dramatic conflict that somehow ends up catapulting the two lonely adults into immediate romantic territory. If you can forgive the Ukrainian Kurylenko's casting, for some odd reason Crowe plops fellow Aussie Isabel Lucas into a supporting role as the resident hotel hooker. She's all wrong for the part, even considering her limited screen time—but it's one of her few screen roles where she's not featured as a near comatose siren in a mussy blonde fright wig.
Much like the criticism Connor (and, at large, the Anzacs) receives as a victim of his own good intentions, so The Water Diviner seems to stumble on its own tenets. And so here we have another rumination on war, and how there are no real winners, with all sides suffering priceless losses.
★★½/☆☆☆☆☆