The Trial of the Chicago 7 | Review
Kangaroo Court: Sorkin Mounts a Famous Political Trial in Sophomore Feature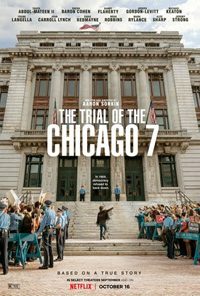 A project finally brought to fruition after bouncing around in developmental hell for over a decade seems to arrive at the right time under the directorial gaze of its original screenwriter, Aaron Sorkin. An ensemble courtroom drama examining the insidious ways in which power can be wielded in attempts to bring resistance to its knees, Sorkin certainly hits hard with the pettiness and frustration we've come to expect in such arenas.
Lively, slickly edited and compelling (a feat considering a two-hour running time in which most of it transpired in a hotly charged courtroom), Sorkin examines several of the main players charged with conspiracy to incite violence and rioting across state lines at the Democratic National Convention in 1968, Chicago. Although not all the notes are sterling and it's surprisingly not as dark as it could (and maybe should) be, it's another necessary and well-crafted reminder of the grueling struggle to protect freedoms by speaking truth to power, even though it often falls on deaf ears.
Outside of the Democratic National Convention in Chicago, 1968, thousands of anti-Vietnam war protestors converged from across the country, and violent rioting broke out. Several months later, Richard Nixon would assume the presidency, and with him, his cabinet of appointees. His new Attorney General, John Mitchell (John Doman) has an axe to grind, upset at a slight which occurred with the changing of the guards thanks to his predecessor Ramsey Clark (Michael Keaton). In response, he decides to flex his power by meddling with the tone of Lyndon B. Johnson's cabinet and orchestrates charges for eight prominent figures who had been at the protest, including Bobby Seale (Yahya Abdul-Mateen II), Abbie Hoffman (Sacha Baron Cohen), Jerry Rubin (Jeremy Strong), Tom Hayden (Eddie Redmayne), David Dellinger (John Carroll Lynch), Rennie Davis (Alex Sharp), Lee Wiener (Noah Robbins) and John Froines (Danny Flaherty). Seven of them are represented by William Kunstler (Mark Rylance) and Leonard Weinglass (Ben Shenkman), while Seale's absent attorney due to hospitalization becomes a major point of contention. And presiding Judge Julius Hoffman (Frank Langella) makes it immediately clear he is hostile to the defendants and what they represent.
As with a well-constructed anthology film, a dependable ensemble scenario is often constrained by some of its compromised parts, and The Trial of the Chicago 7 is no exception here. Obviously not as tightly contained as something like 12 Angry Men, there are stand-ins from each faction which take up the largest spaces, one of them being Sacha Baron Cohen as Abbie Hoffmann.
Originally, Spielberg was trying to direct the project as early as 2007, and for various budget and cast reasons, it never got off the ground, but Cohen was long associated with it. As of 2020, Cohen seems too far removed from Hoffman's age, fine as his performance may be. At the same time, the levity of Cohen and Jeremy Strong as Jerry Rubin, his hippie cohort, sometimes plays like broad caricature. However, where Cohen at last really shines is when Hoffman is chosen as the sole representative to take the stand, a role wrestled from poster child Tom Hayden, in ways which are also compelling.
Mark Rylance, always a dependable conduit (no matter the hairdo) as their defense attorney, and most everyone else is solid in their shades of outrage, whether from the privileged pulpit of Eddie Redmayne as Hayden, John Carroll Lynch as David Dellinger or a smug but decent prosecuting attorney Richard Schultz (portrayed by Joseph Gordon Levitt doing what he can in limited capacity).
If Cohen deserves notices, the real stars of The Trial of the Chicago 7 are Yahya Abdul-Mateen II as Bobby Seale (Kelvin Harrison Jr. as Fred Hampton is also effective), bound and gagged in court after weeks of the court's reprehensible treatment. Seale is also the figure where Sorkin falls shortest here, which is, of course, is the reality of race which adds extra detriment to Seale's outcome as compared to his fellow white defendants. The other formidable standout is Frank Langella as the cantankerous, doddering, and malevolent Judge Julius Hoffman (and yes, Michael Keaton provides the specter of hopeful justice in two late-staged scenes as ex-Attorney General Ramsey Clark).
Shot by Phedon Papamichael (Payne's Nebraska, 2013), the look of the period is mostly well-administered, though an early montage set to a portion of Daniel Pemberton's (Steve Jobs, 2015) score sets the film off on a hokey note, The Trial of the Chicago 7 might not reach the heights of some of Sorkin's other political or courtroom scripted dramas, from "The West Wing" to A Few Good Men (1992).
The film also arrives in the wake of Steve McQueen's exceptional Mangrove, which similarly presents a coterie of Black British defendants brought to trial for rioting when a protest against police violence broke into rioting, a film which conveys its repudiation of injustice like the furious gavel periodically presented in The Trial of the Chicago 7.
★★★½/☆☆☆☆☆