Reviews
Nothing Bad Can Happen | Review
Book of Job 2: Gebbe's Divisive Debut High Brow Torture Porn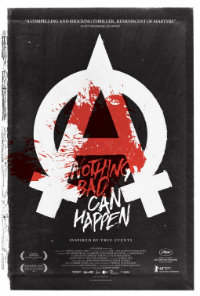 The only German entry in 2013's Cannes film festival also happened to be one of the most grueling with Katrin Gebbe's debut, Tore Tanzt (Nothing Bad Can Happen), which is bound to inspire as much derision as it does praise. Unfortunately, Gebbe's debut doesn't quite reach the same levels of finesse as uncomfortably similar fare and often tries too hard to be shockingly provocative, sometimes at the expense at some narrative and character development. Nevertheless, Gebbe's film never loses its choke-hold and will have you squirming uncomfortably until its final frames.
Tore (Julius Feldmeier) is a kindly drifter who we assume has been abandoned by his family like many of the ragtag misfits in the group he is now affiliated with known as The Jesus Freaks. Living (or maybe even squatting) in what looks like frat house squalor somewhere in Hamburg, Tore seems to have found a carefree niche where Jesus is the name of the game at every waking minute. A chance encounter finds Tore helping out a stalled vehicle containing the family of Benno (Sascha Alexander Gersak) by praying for Jesus' salvation to restore the car to working order.
Eerily, the car starts after Tore's prayer, and thus begins a friendly rapport between Benno and Tore. Benno's wife has two children that don't seem to care for their rough around the edges stepdad, but the shyly sweet teenage Sanny (Swantje Kohlhof) catches the awkward Tore's eye. When he discovers that other members of the Jesus Freaks have questionable moral values when it comes to premarital sex, he absconds to Benno's rundown home and is offered residence in a tent outside the house. While Benno's behavior towards Tore is uneasy from their first very encounter, things quickly spiral out of control as Tore witnesses the family's many dysfunctions, which soon sees Benno and his wife abusing the poor lad, who assumes that it is his assigned burden from god to accept this punishment and perhaps save the innocent Sanny from similar treatment.
There's a fine line to be crossed in cinema of provocation. High art can easily become exploitation, and Nothing Bad Can Happen unfortunately can't cloak its ribald manipulations, instead daring us with its cruelty to look away. While the establishing foreboding atmosphere is quite chilling, around the time Tore is force fed the rotting carcass of a moldy, gray chicken and is granted a miraculous escape from his emotional captors only to promptly return to the clutches of depravity, the film loses all semblance of rationality. Instead, those rather mocking sequences which showed us the ridiculous simple-mindedness of the Jesus Freaks at the film's opening positions Tore as a Christ-like figure, sent to willingly endure despicable human horrors so that we may be forgiven for our sins. And that's exactly where the film fails to be compelling, showing Tore to be the ultimate martyr, who succinctly sums up for us that without his faith he'd have no hope, which, of course, implies that it's his irrational faith that let's himself be treated like a mongrel dog. We have little sympathy for Tore, while the abusive actions of the adults, which quickly become horrific, seem unjustified, especially when a couple that's friends with Benno and his wife become privy to the abuse and jump on board without thinking twice.
While Feldmeier and Gersak are both exceptional in their characterizations, there's something that doesn't quite sit well by the closing credits. Gebbe gleefully announces that the film is based on a true story right after its final, shocking moments, but this only serves to question the weak scripting in some of the later sequences. But whatever your squabbles, of which you may have many, Gebbe succeeds with what she set out to do—she's made an upsetting film that will make you angry, make you cringe, and most importantly, for better or worse, make you remember her name.
Reviewed on May 23 at the 2013 Cannes Film Festival – Un Certain Regard.