Tulipani, Love, Honour and a Bicycle | 2017 Toronto International Film Festival Review
Tulip Fevered: Universality Found in Bulbs & Bicycle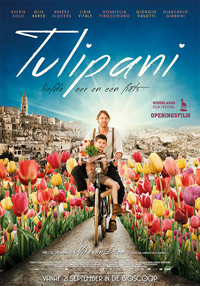 In Dutch filmmaker Mike van Diem's whimsical Tulipani: Love, Honour and a Bicycle, a young Canadian-Italian woman named Anna (Ksenia Solo) goes on a fantastical voyage to Puglia after the jarring event of her mother's death. In the process of discovering her roots, our protagonist learns about the unlikely story of her parentage, one which includes a foolishly ambitious Dutchman, a booming tulip business, violent extortionists, a pan-European bicycle ride, and even an exploding cave.
In typical fairytale fashion, the tale is exaggerated by all those who tell it. The colours are brighter, the feats of strength more arduous, and the unlikely coincidences all the more romantic. Anna's father apparently tracked down the love of his life without knowing her name, beat up a dozen armed mafiosos single-handedly with a stick, and grew fields of supernaturally-coloured tulips overnight as if by magic. But realism is hardly the goal here, and at least the film seems self-aware in that respect. No question Tulipani achieves its objectives admirably: it's almost sickeningly saccharine and unabashedly picturesque.
Comparisons to such eccentric, wacky, and heartwarming European fare like Amélie (2001, Jean-Pierre Jeunet) and Attila Marcel (2013, Sylvain Chomet—who rose to fame with 2003's The Triplets of Belleville) are not far off the mark. Tulipani tells a story with broad strokes: love, vengeance, honour, friendship, and destiny are all key themes throughout the narrative. But perhaps the over-generalization of universal themes sacrifices character and specificity in the process, thereby making it harder to care about the characters onscreen. Anna's father, for example, is brawny, brave, and bearded. Her mother is beautiful, determined, and nurturing. What is the purpose of an archetype if it only represent itself? What are these people's flaws?
Despite its absolutely two-dimensional nature, Tulipani somehow still manages to get unexpectedly serious near the end with a couple of violent deaths. The sober turn seems inappropriate and tone-deaf, as though the filmmakers forgot they were making a waggish caricature of an origins story. Still, regardless of its inconsistent tone, the film remains a briskly-paced, nicely-shot piece that's short, sweet, and easy to watch—and maybe even mildly entertaining at times. It's hardly a thinker, but if you're looking for diversion rather than confrontation, Tulipani: Love, Honour and a Bicycle is something like a piece of refreshing fruit after a rich and heavy meal.
Reviewed on September 10th at the 2017 Toronto International Film Festival – Contemporary World Cinema Programme. 90 Mins.
★★/☆☆☆☆☆