The Motive | 2017 Toronto International Film Festival Review
Master of the Universe: Cuenca Returns with Predictable Exercise on the Writing Process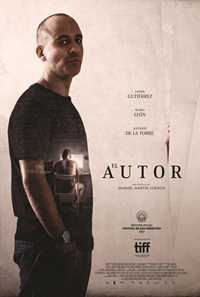 If you can't find a muse, make one. Or so might be the adage applied to the protagonist at the center of Spanish director Manuel Martin Cuenca's sixth film, The Motive. A struggling writer in a dead-end job gets outdone by his own wife in the creative department. After the success of her novel, a thinly veiled recapitulation of their stale marriage, her resulting adultery sends the man off in a tailspin. But from the ashes of his demise, he discovers an authorial voice, which begins to take on monstrous intensity after he moves into an apartment building and manipulates the residents so he may use their reactions to stimulate the basis for his own novel.
What begins as a cynical and overtly snarky portrait of the selfish possibilities of the creative process eventually spoils as a monotonous rendition of a man who turns out to be more sociopathic than creative.
Stuck working as a notary clerk, unhappy Alvaro (Javier Gutierrez) finds his writer's block worsen just as his wife Amanda (Maria Leon) becomes an instant bestselling author with her pulpy first novel. Upon discovering his wife's infidelity, placed on mandatory leave at work, and humiliated at the writer's workshop he regularly attends by a rather ornery instructor (Antonio de la Torre), Alvaro decides to focus on finding his voice. Taking a note from his teacher's tirade, Alvaro begins to observe the world around him, using a heated sketch of a confrontation with his wife to exemplify his new-found skills. Met with positive critiques, Alvaro decides to take this a step further when he moves into a new apartment building and woos the lonely doorwoman (Adelfa Calvo) to fleece her for lurid details on his neighbors, which he in turn uses to pit them against one another to inspire his burgeoning novel.
If anything, The Motive seems more an example of how the cliched advise of how 'writing what you know' turns into perversely, misunderstood territory. From Truman Capote to the machinations of the media hound in Dan Gilroy's nightmarish Nightcrawler, a gross manipulation of an environment one is meant to objectively observe rather than warp for heightened exaggeration results is merely the Machiavellian route to eventual annihilation.
The fact that Cuenca seems disinterested in making Alvaro empathetic is in keeping with the director's general sense of misanthropy, at least in comparison to his last film, 2013's Cannibal, which focused on a character who murders and consumes until confronted with the possibility of love. It would seem Alvaro gets his ironic comeuppance in a karmic boomerang thanks to the ill treatment of his neighbors, but nothing equates to the humiliation and distress he causes his lonely-hearts doorwoman, or the troubled immigrant couple badly in need of a confidante. Instead, Cuenca asserts the joke is not in Alvaro, but on whoever gets stuck with him, as evidenced by a finale played for laughs but underlined with the insidious angle threaded throughout the film's entire scenario.
Reviewed on September 12th at the 2017 Toronto International Film Festival – Special Presentations Programme. 112 Mins
★★½/☆☆☆☆☆