Emulating Almodóvar: Castellitto Employs Cruz To Pull Heartstrings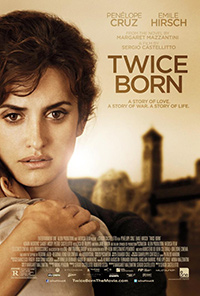 The renowned Italian actor turned middling director Sergio Castellitto returns to his place on both sides of the camera with Twice Born, this time playing the homebound husband in his second film to be based on a novel by his wife Margaret Mazzantini featuring his on screen Spanish muse Penélope Cruz as his tragic protagonist. Revisiting many of the same genealogical complications explored in their largely unsuccessful last collaboration, Don't Move, which featured a grating troupe of unlikeable characters, his latest sees Castellitto rounding up an international cast that pulls hard at the heartstrings, diving deep into melodramatic territory while exploring the depths of maternity and what it means to be unequivocally in love. Thankfully, the film revels in overblown emotion while managing a twisty-turny narrative that plays flashbacks of mixed affection against a homecoming visit to a bygone comrade.
Leading the film, much of it in heavy aging make-up, Cruz plays Gemma, a mother who's repressed memories of the Balkan Wars and her romance with a now passed American war photographer named Diego (Emile Hirsch) start to resurface when she brings her son (Sergio's son Pietro Castellitto) on a trip from Italy back to Bosnia where they visit an old friend who introduced his parent's (Adnan Haskovic) and a gallery show of her deceased lover's work. Memories of their initially fiery romance and their impassioned desire to have children fade in and out, but the drama starts to unfold as their relationship runs cold after they discover that Gemma is infertile. As we learn, in desperation for a child, their son was actually conceived with an acquaintance of their's for a hefty sum of cash. Having raised the boy from birth, Gemma is truly his mother in every sense of the word, but when reticent details of his conception during the chaos of war come to light, she is faced with unsettling truths that reframe her memories of that troubling time.
Unafraid of sentimentality and emotional exuberance, Castellitto pushes his actors near the point of over-acting, with only Hirsch coming off a bit hammy early on as the free spirited artist willing to fall in love on a whim. Cruz on the other hand feels completely alive and every bit as tragically sexy as she was in Almodóvar's exquisite Broken Embraces. Also like Almodóvar, Sergio's film is as visually bold as it is melodramatic, continually full of strong coloration, seen from the opening frames of a ship's striking teal deck against the opening credits onwards. Though comparison's to the Spanish master are completely warranted here, Twice Born just isn't of the same high caliber. A work of lost passion and unraveling revelation, Castellitto's fourth feature is a respectable romantic tragedy that shows just how much hard work it can be to maintain a loving relationship in the face of emotional and political tribulation with yet another exemplary performance by Penélope Cruz working outside of her native tongue.
Reviewed on September 15th at the 2012 Toronto International Film Festival – Gala Presentations Programme – 127 Mins.