M Is For the Many Things You Gave Me: Fontaine's Cougars and MoFos Fashion Her Striking English Debut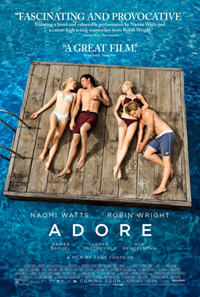 Two parts high trash and one part scintillating case study, Anne Fontaine's English language debut, the Australian set Adore, based on a novel by Doris Lessing, is awkward, uncomfortable, and sure to provoke reactions. While dismissal and nervous laughter are perhaps the key responses amongst conditioned conservative consumers of English language cinema, Fontaine's latest is ballsy, to say the least. While it's not entirely successful on all counts and has a tendency to seem like a bizarrely crafted arthouse soft core fantasy exploring hot topic taboos, especially considered the disarmingly good looking cast, with two mothers that happen to be played by incredibly attractive actresses (which only makes it foolishly palatable), there's a fascinating depth to this challenging piece, even if you are laughing when you're not supposed to,
Two best friends from childhood, Roz (Robin Wright) and Lil (Naomi Watts) live their adult lives together as well, both neighbors living on a lush and isolated seaside Australian community. Having had sons around the same time, who are also inseparable, Lil and Roz share a closer relationship together than they do with any other. While Lil's husband passes away before her son Ian (Xavier Samuel) comes of age, Roz's husband, (Ben Mendelsohn) is a bit jealous of Lil, accusing them of being sexually attracted to one another. While Lil and Roz deny any homosexual leanings, conflict arises when Roz's husband takes a lucrative position in Sydney, which would cause the separation of the best friends. And while he's away trying to establish a home for them there a month in advance, Ian and Roz begin a steamy sexual relationship. And when Roz's son (James Frecheville) discovers this, he initiates a liaison with the more quiet and fragile Lil. While the two mothers decide "a line has been crossed," they find themselves unable to resist the temptation, and the two sets of lovers continue on as they are for the next two years, until one of the young men decides he may like a woman is own age, which severely alters their tiny world once again.
Fontaine reunites with cinematographer Christophe Beaucarne (they worked together on her 2009 Coco Before Chanel), who catches the beautiful Australian seaside terrifically. Before the hanky panky begins, we're treated to some establishing framing shots that try to lead us subtly to the eventual pairings, with the more aggressive Ian and the steely, reserved Roz sitting quietly in a rollicking breeze while the emotional Lil dances with the Roz's more awkward and less emotionally developed son. The frank way in which Roz and Lil discuss their unconventional situation will have many people laughing at the ridiculousness of it all, and the situation isn't helped by some of Christopher Hampton's dialogue ("They look like gods," comments the admiring Roz as she watches the boys surf), particularly some of the lines uttered by the overtly intense Xavier Samuel, who gripes during his physical therapy after a self induced surfing injury, "I don't know why I bother!"
It's easy to gripe about the ludicrous elements of Adore, a curious entry from the varied Fontaine, and she would have been better served to cast more normal looking people as the main quartet (though Frecheville, with his brooding brow may seem the best fit). Watts and Wright are luminous, and Wright gives the stand out performance of the two, her steely gaze unwavering, giving us Carole Bouquet all the way as she struts like a tigress in her bikini.
Unfortunately, the mainstream will most likely laugh Adore off as a controversy courting perversity, which would be a shame, because its power is in its surprising ability to show us that we may not all desire the same things, but being allowed to decide what works for oneself may be the ultimate key to happiness. While we wouldn't all be at home in Lil and Roz's universe, it's hopeful to know that there's the possibility of its existence.
*Note the title was changed from Two Mothers to Adore – we made some modifications to reflect this.
Reviewed on January 18 at the 2013 Sundance Film Festival – PREMIERES Programme.
111 Min