Seeing Double: Peele Turns his Camera on Us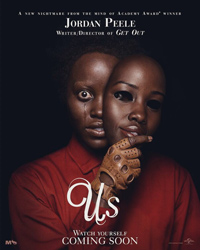 In the best possible way, Us feels like a Jordan Peele movie — his sophomore feature offers a cinematic Rorschach test that calls our deepest, darkest subconscious fears to the surface. It's also a delightfully lucid nightmare—so good that, like a recurring dream, we feel compelled to revisit each grisly frame over and over. Peele pits his titular group—actors, audience, and himself, i.e., Us—against our worst selves, an exercise in self-reflection by way of home invasions, chase scenes and stab wounds. With a familiar blend of humor and engagement, Us sidesteps a Get Out sequel, choosing to go deeper, literally and figuratively. The result is bigger, scarier, and subversively political, replete with razor-sharp metaphors (class issues, xenophobia, & more). Most of all, Us solidifies Peele's status as a true auteur of our time: a king of crowdwork, a sage of scares, and a brilliant artist who clearly has much more to say.
Meticulously crafted, Us milks expectations with an opening rife with ominous, Final Destination-style symbolism: from a toy Ambulance to a Frisbee, every detail is packed with portent. Central to it all are the Wilsons, a wholesome, all-American family, doubly subversive because they negate the stereotype that Black movies have to be about Blackness. There's the burdened, protective matriarch, Adelaide (Lupita Nyong'o); her goofy, pseudo-macho husband Gabe (Winston Duke); their savvy track-star daughter, Zora (Shahadi Wright Joseph); and their misfit trickster son, Jason (Evan Alex). Accompanied by quasi-rival couple Josh and Kitty (Tim Heidecker and Elisabeth Moss), their picture-perfect vacation in Santa Cruz takes a terrifying turn when four red-clad, scissors-wielding doppelgangers show up outside their house. Each "untethered" assailant is a distorted mirror image of their IRL selves. Imagine trying to outwit a vicious copy of your own strengths and instincts: it's an inner-outer battle, progressing at a near-breathless pace, providing exactly what we don't want right when we don't want it—and then gratifying with lightning bursts of euphoric escape.
Both meme- and-award-worthy, Us is a true performance film. The 'evil twin' conceit allows for next-level character acting: at once cartoonish, terrifying, and painfully sad. The untethered thunder or skitter across Peele's frame with a mix of old-school monster movie malice plus the grace and precision of Black Swan or Perfect Blue. Their menace is both aural and physical, but empathy is far from lost. Lupita Nygon'o, in particular, astonishes by playing against herself, both humanizing and vilifying the film's emotional core. Also remarkable is the sound design: ranging from jump-out-of-your-seat engrossing to pointedly baleful, from amusement park screams to cars whizzing by—with an unforgettable mix of pop music and popped arteries.
In sum, Us is smart, gripping, hilarious and horrific, loaded with sweet, sweet payoff. Peele's style is so rooted in building up expectations and subverting clichés that it's hard to accept the final reveal without feeling deprived. If viewers find fault, it will be with the ending—a twist of Peele originality that many will predict but no less enjoy—which may be too abstract for the more technically-minded.
Yes, the mechanics of Peele's imagination leave some unanswered questions; but it's the resulting uncertainty that makes Us so terrifying. The fearful symmetry between us and our untethered selves leaves us rocked to our core: who are we to judge the other? It's a hard question to ask, and a harder one to deliver—particularly when conveyed as seamlessly and as thrillingly as Peele has done here. Long after the credits, the sound of the roaring, screaming crowd lingers—a chilling reminder of the animal instincts that live just below our own surface.
★★★★½/☆☆☆☆☆