High Tide | 2020 Sundance Film Festival Review
The Moon in the Gutter: Chen Turns Tables in Taut Character Study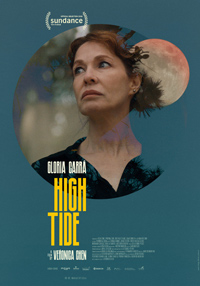 Argentina's Veronica Chen adds to the annals of violent amour fou with her seventh feature, High Tide, a juicy character study cum thriller which navigates the amorphous tensions of gender and class. Boundaries seem made only to be crossed in such tenuous intersections, where victim becomes victimizer in a world where moral compasses have sloughed away. Chen gifts actress Gloria Carras a stellar platform to navigate a slippery struggle for power and control amidst the frivolous parameters of the privileged. As concessions are made, tensions rise considerably in what seems a superficial exchange of slights until Chen's narrative reaches a point of no return. Graceful in its throes of discomfort, as its protagonist rises from the depths of her taciturn demeanor to uncontrolled frustration, Chen's initial set-up of passing pleasure proves to have considerable strings attached.
Laura (Gloria Carras) is overseeing the construction of a new barbecue shed in the backyard of her isolated palatial estate, and one whimsically drunken evening allows a flirtation with lead contractor Weisman (Jorge Sesan) to lead to a sexual interlude which ends early the next morning. Except Weisman's employees arrived to work early enough to deduce what has happened, unbeknownst to Laura. As she basks in the afterglow of her pleasurable tryst, bragging to a friend who frowns upon the episode, it seems the interlude has caused a shift in the behavior of Weisman's work crew, who begin to violate Laura's personal boundaries, at first verbally and then physically. Meanwhile, Weisman won't return her increasingly plaintive calls and she resists asking her husband to come take charge. Eventually, she's simply driven too far.
Like a femme powered take on the eloquent but troubled lovers populating the filmography of Claude Chabrol, Chen's latest plays like the hetero cousin to something like his 1968 classic Les Biches, wherein a male architect insinuates himself into a clandestine sexual relationship between two women, each who hail from different backgrounds.
Class representation and entitlement have become more insidious than those sexual taboos of the late 1960s, and Chen migrates this hothouse template into something more universal. Carra is somewhat reminiscent of a mature Mia Farrow, initially seeming vulnerable to her situation before she drops her social graces and lashes out at the liberties taken by Weisman's construction workers.
Since the narrative is from the perspective of Laura, they're presented as one-note incarnations of id, revelers looking for any excuse to engage in their base compulsions. Laura's biggest threat comes in the form of Cristian Salguero's (Paulina, 2015) Toto (a name synonymous with one of cinema's most famed canine characters feels notable), whose sexual aggressiveness becomes palpably threatening in several scenes, and much like the frustrations to be had with Dolores Fonzi's titular rape victim in Santiago Mitre's Paulina, one balks at several of Laura's premeditated moves to put everything back into place, such as giving the workers a bottle of wine and then leaving them unattended for the day. Of course, her own virulent microaggressions come to the fore the more she is pushed, and Carra heads down a verbally vitriolic lane usually emphasized in Tennessee Williams' troubled females.
Shocking in at least as much as Chen presents us with a heroine refreshingly remorseless in her selfishness, High Tide swims Laura into a rip current and allows the undesirable practice of social survival to take control.
Reviewed on January 27th at the 2020 Sundance Film Festival – World Cinema Dramatic Competition – 106 Mins.
★★★½/☆☆☆☆☆