Charter | 2020 Sundance Film Festival Review
The Custody of Love: Kernell Returns with Emotionally Wrought Portrait of a Mother's Love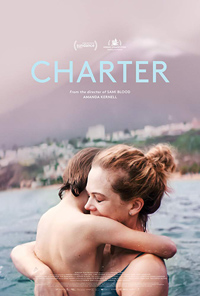 Consider the standard, universally familiar (i.e., acceptable) narrative of fathers who abandon their partners and children, whether fleeing a toxic relationship, their own ennui, embracing the temptation of greener pastures or any other terrestrial reason known to humankind—it's generally a given, upon or if their potential return to the fold, the prodigal patriarch is allowed a chance at redemption. But it's social castigation meted out to estranged mothers who leave and attempt a return, especially when they're expecting shared custody of children (or at least the comfort of communal support). Such is the converse harsh reality we've also come to normalize as the thought of a mother abandoning her children remains a taboo transgression. Such is the dilemma at the heart of Charter, the sophomore film from Sweden's Amanda Kernell, a story which slide along on familiar strings but elegantly sings all the right notes.
Living in Stockholm, Alice (Ane Dahl Torp) receives a sudden panicked phone call from her young son Vincent (Troy Lundkvist), but the call is cut short. She rushes to her children, who are staying with their father Mattias (Sverrir Gudnason) in a rural town, but he won't allow her to see them. What's worse is he's taken away any method for Alice to directly contact them, which is a response to Alice leaving them behind to live in Stockholm—and her actions may have jeopardized her chances at custody. The whole town seems to be aware of her actions, wherein her career has helped ensure an inability to move back without being dependent upon her ex-husband. In a frenzy about the emotional state of her children, Alice shows up at their school, scooping up Vincent and his older sister Elina (Tintin Poggats Sarri). Against legal rationale, she hails a charter boat to abscond with the children to Tenerife as she decides her next moves.
Although her 2017 Sami Blood (review) was a period piece dealing with the racism experienced by a young Sami woman in 1930s Sweden, Torp's contemporary Alice is in a similar conundrum in having to make a similar decision for her own well-being by extricating herself from an emotionally lethal scenario, which means breaking from the expected norms of her culture and fleeing to Stockholm. The vitriol towards Alice is palpable, from the sulky emasculation of her brooding husband to school employees who don't varnish their words when dealing with Alice, a woman they've written off as unworthy of respect. The emotional gamut wrenched out of Ane Dahl Torp as a mother taking desperate, arguably unnecessary measures, recalls the crazed ferocity of some of cinema's most anguished blondes, from Gena Rowlands to Trine Dyrholm to Nina Hoss, and her performance in Charter deserves similar international renown for her caliber.
Scuttling the children off to Tenerife, the largest of Spain's Canary Islands (last year Corneliu Porumboiu utilized the same exotic whistling language in The Whistlers, set on La Gomera, as a subtext), Kernell crafts a scenario of troubled paradise as Alice tries valiantly to reconnect with the children whilst the authorities back home try to locate them at her husband's behest.
While the younger Vincent has been less emotionally harmed by his parents' fraught power struggle, it's the troubled teen Elina who benefits from the excursion after considerable coaxing, played gracefully by Tintin Poggats Sarri. A testament to the rewards which can be reaped by pushing outside of one's comfort zone, Kernell sails her film into unexpectedly emotionally rife plateaus, perhaps most beautifully when Alice forces the children, almost maddeningly, to a karaoke duet to Meatball's classic rock ballad "I'd Do Anything for Love (But I Won't Do That)," in a moment made all the more poignant with the myriad of compounding troubles threatening to consume them. Reality, of course, dictates the course of where Charter sails but it's a warmly rewarding for how it doles out hard-won hope in the aftermath of seemingly impossible, ultimately selfless decisions.
Reviewed on January 29th at the 2020 Sundance Film Festival – World Cinema Dramatic Competition – 94 Mins.
★★★½/☆☆☆☆☆