Reviews
We Are What We Are | Review
It Is What It Is: Mickle's Latest a Subpar Remake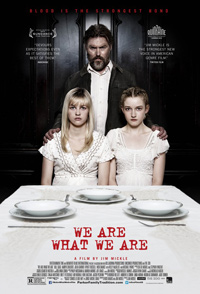 Director Jim Mickle's latest, We Are What We Are, is a remake of the excellent 2010 debut from Mexican director Jorge Michel Grau, where a family of urban cannibals struggles to continue on with its precarious rituals after its patriarch unexpectedly dies. Unfortunately, in his attempt to put his own stamp on the morose material, Mickle gracelessly butchers the previous film's subtle commentaries on socioeconomics and dangerous patriarchal traditions and instead gives us a half-baked exercise that only becomes more strangely ridiculous as it tries to explain itself with some B cheapie writing flourishes in its second half.
In rural Upstate New York, the Parker clan has kept to themselves, isolated from their fellow community members, regarded as a bit strange but hardly dangerous. When a torrential rainstorm hits the area, Emma Parker (Kassie Depaiva) unexpectedly dies, leaving her husband Frank (Bill Sage) all alone with their three children, Iris (Ambyr Childers), Rose (Julia Garner), and Rory (Jack Gore). But with mom gone, sisters Iris and Rose learn that they're next in line to enact the family tradition of putting meat on the table, which means preparing the prey that father Frank captures for them. While the sisters deliberate their own commitment to these family values, Doc Barrow (Michael Parks) begins to discover some oddities during Emma's autopsy. As Barrow digs for answers, so does the storm begin to unearth some Parker family secrets.
While Mickle avoids directly remaking Grau's original film, the significant changes made also make this a much sillier exercise. Here we have a family entrenched and devoted to cannibalistic tradition that has somehow evolved into a religious based ritual. During its initial setup, Mickle establishes an eerie and enjoyable atmosphere, but this quickly dissolves when Rose starts reading a family diary which is the account of their Donner party-like ancestors and we're treated to some hammy flashback reenactments. While the children here are believable enough, Bill Sage is a bit over the top, his performance, like the film, ultimately taking itself much too seriously. And at the point where Doc Barrow pieces the puzzle together after discovering that Emma was beginning to suffer from a cannibalism related disease, the remaining elements of plausibility come crashing down. And then there's a very poorly conceived role for Wyatt Russell (son of Kurt), a deputy that has the hots for elder daughter Iris, a doofy cop who meets his demise in an albeit grisly but dippy sequence.
On the bright side, Mickle definitely saves the best for last, completing his feature with a moment that can only be described as Grand Guginol, and it's unfortunate that much of the preceding film doesn't match the intensity of the final moments. In comparison to his previous directorial efforts, the rather one note Mulberry Street (2006) and the well-received but also lacking 2010 film Stake Land (in which he also utilizes Kelly McGillis, who gets a small role here as well), We Are What We Are may very well be his most accomplished work to date, but the original source material still happens to be vastly superior.
Reviewed on January 20 at the 2013 Sundance Film Festival – MIDNIGHT Programme.
100 Min.