Nobody Knows: Mayer's Debut Explores Personal is Political with Tragic Gay Love Story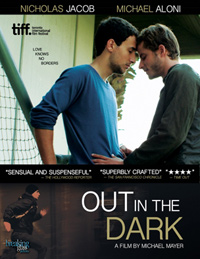 For his screen debut, Israeli born director Michael Mayer's Out in the Dark further complicates the Israeli-Palestinian conflict by giving us a story about two young men from opposite sides of the track, as it is, falling in love. The result is a complicated series of road blocks for the couple, a situation that causes not only familial strife, but political and violent turmoil. Mayer has tapped into a predicament not often visited cinematically when exploring the ever present conflict in the Mid-East, and he's managed to not only make a memorable debut, but an unflinching document about the violence and hardships LGBT people face in this hostile territory.
Sneaking dangerously across the border one night to get from Ramallah to Tel Aviv, Nimir (Nicholas Jacob), a young Palestinian student is on his way to see his close friend, Mustafa (Loai Nofi) at a gay bar. Mustafa is a Palestinian in hiding, but has just acquired his own space with the help of some connections he has built. While at the bar, Nimir runs into a young Israeli lawyer, Roy (Michael Aloni). An immediate flirtation develops and thus begins a hot and heavy affair. Nimir gets selected to take an exclusive class in Tel Aviv and acquires a coveted pass to get back and forth. But that's the last good thing that happens to him for a while, because, as his older brother becomes more embroiled with violent rebel associates back home (storing a small arsenal of weapons on the property), Mustafa is suddenly rounded up by the fickle Israeli police force and dumped back into Ramallah. It's rumored that he was a collaborator with the Israelis, and a gay prostitute leading Nimir's brother and his associates murder Mustafa in front of Nimir. Distraught, Nimir flees to Roy's house in Tel Aviv where they weigh their options, but all hell breaks loose when Nimir's family discovers his sexuality. Completely dependent on Roy to help him, they both know it's not long before Nimir will be rounded up like Mustafa and taken home to face certain death. Roy, a lawyer who works for his father's prestigious firm, scrambles to pull any strings he can, but soon discovers that though Israel may be more open and accepting, it's not by much, especially considering he's asking family and connections for help supporting a man considered to be an enemy.
There's a definite sweetness to Nimir and Roy's courtship, and a believable chemistry between the two leads. As this quickly dissipates, and Out in the Dark becomes more a tragedy filled melodrama, we run the gamut of experiences associated with coming out in a restrictive and homophobic country. Certainly, the scene where Nimir is rejected and nearly murdered by his family members at their discovery is a stand out scene, at once uncomfortable, painful, and most importantly, well done. Curiously, an interesting point is touched on—the gays don't care about the Israeli-Palestinian conflict, at least not in the same regard. "A dick is a dick," one of them succinctly says. Hated on all sides, they are at least able to unite in spite of cultural differences.
The character of Roy is less well developed and a little more back story or supporting detail would be very welcome, but this is very much the story of Nimir, and features a well realized performance from newcomer Nicholas Jacob. Perhaps the most tragic character here, though, is the helpless Mustafa, brutally murdered before our very eyes. Certainly more flamboyant than either of our lead characters, one gets the sense that his demise is usually what happens to young gay men facing these conditions in this part of the world. The handsome, "passable" Nimir has a hot, young boyfriend that has connections not only with the law, but mob ties as well. But perhaps these are the very fantastical connections a gay Palestinian would need to flee, and, outside of the movies, probably wouldn't get. While it would have been nice to see a less dramatic support system for our plagued protagonist, these are small issues in relation to the greater picture. On the technical side, there are some excellent landscape shots, but most of the film is up close and intimate, as well as many scenes taking place in the murky night, with more than one character fleeing for his life.
Out in the Dark further explores LGBT lives in the Mid-East, and from an even more complicated angle, worthy of comparison to Eytan Fox's Yossi & Jagar (2002) concerning gay Israeli soldiers, or 2009's Eyes Wide Open about an Israeli Orthodox Jewish father falling for a younger man. Above all, Mayer proves he is a director whose work we can look forward to.
Reviewed on September 7 at the 2012 Toronto International Film Festival – DISCOVERY Programme.
96 Min.