Dolled Up: Giladi's Melancholy Debut on Dreams Deferred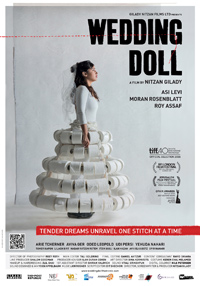 Lives and loves hampered by the desires of others provides the basis for Israeli documentarian Nitzan Giladi's feature debut, Wedding Doll, a muted passion in the desert tale which brings us to crushing disconsolation rather than the breezy romantic fantasy it initially promises. Built solidly on several striking characterizations, particularly of its lead protagonist, it's a sobering take on conditioned cultural wedding fantasies, a darker rendition of a narrative and themes we've seen before. Like a working class version of Guy Green's Light in the Piazza (1962), or a hard edged cousin to P.J. Hogan's Muriel's Wedding (1994), good intentions and selfish desires become agents of repression for the troubled mother-daughter struggling to survive here.
Living in a rural wasteland in the Negev Desert, twentysomething Hagit (Moran Rosenblatt) is a mentally disabled young woman who works in local toilet paper factory but dreams of becoming a fashion designer. She especially desires to make wedding dresses, and fashions makeshift miniatures out of the toilet paper of the factory, which she shares with her crush, Omri (Roy Assaf), who is the boss's (Aryeh Cherner) son. But Hagit lives and works with her mother Sara (Assi Levy), a determined woman who has toiled ceaselessly to provide a life for her daughter at the cost of her own happiness (at least evidenced by the sacrifice of a would-be romantic life with local Haim, played by Oded Leopold). However, Hagit desires to be on her own and Omri's reciprocated affections have the young woman hoping and desiring they can one day be married.
In many ways, the film's revolving elements of sweetness and dejection make Hagit's travails feel akin to the trio of women in Shira Geffen and Etgar Keret's Jellyfish (2007), a contemporary portrait of Israeli women each thwarted by their own personal obstacles. Hagit's life is informed and manipulated by her well-meaning mother, unfortunately suffocated and hampered by her overprotectiveness. Assi Levy is quite wonderfully understated as Sara, a role prone to melodramatic tendencies in the Aurora Greenway tradition. Relative newcomer Moran Rosenblatt is effortlessly charming as Hagit, a character afforded an impressive emotional arc as a young woman determined to become a fashion designer.
The film's infrequent but pointed instances of bullying, the worst at the hands of a young girl from the apartment complex who relishes taunting, are anxious and distressing, and allusions to a major injury Hagit suffered at the hands of her peers dutifully explains Sara's knee-jerk reactions to the notion of her daughter being alone. But as unintentionally cruel as all the able-minded people are around her, Giladi impressively finds time to create a believable attraction between Hagit and Omri, though Roy Assaf isn't given the opportunity to build on this rather passive characterization outside of his moments with Rosenblatt.
There's an odd beauty to DP Roi Rot's desolate desert frames, the buildings and its inhabitants the unusually glum figures in the landscape. But just as Hagit creates fantastic designs from the toilet paper of the factory (including an impressive wedding dress, featured on the poster), the film constructs a makeshift beauty from what otherwise seems banal ruination. The recurring wedding doll totems allow for a fitting finale in a beautiful visualization of fantasies left behind for a new reality just as good as any ABBA song. Sweet, but ultimately (or, perhaps, arguably dispiriting), Wedding Doll is a compelling first narrative feature from Giladi.
★★★/☆☆☆☆☆