Reviews
Welcome to Pine Hill | Review
Transcendental Hurrah: Miller's Moving Film an Exercise in Isolation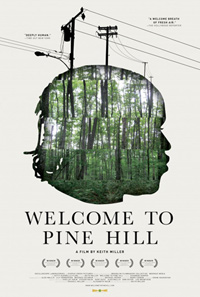 Based on his 2010 short film, Prince/William, Keith Miller has expanded his debut Welcome to Pine Hill into a moving drama that manages to maintain an impressive level of profundity despite being more of a concept than an actual narrative. Using mostly non-actors, including himself, Miller's film was born out of a chance encounter that inspired the short film. Returning with his most impressive ingredient, lead actor Shanon Harper, the feature won the Grand Jury Prize at the 2012 Slamdance Film Festival. At turns meandering, imprecise, and even stilted, Miller manages to also have created a film and a character that's memorable, meditative, and moving.
One night in Brooklyn, two strangers clash over the ownership of a puppy. Miller plays a white man currently in possession of the dog while Abu (Shanon Harper), a black man, claims the dog was taken or ran away from his stoop. He didn't hang up any flyers because that's not what people do where he comes from, he states. A round of awkward brow beating ensues, with the hulking Abu announcing that in the past he would just have taken what was his, no questions asked. "I've changed," he admits, and the two agree to meet again with Abu relinquishing ownership for a sum of money. And so we learn that Abu, a former drug dealer has indeed been trying to clean up his life, working by day as a claims adjustor and by night as a bouncer.
The sacrifice for moving away from his old group of friends and into corporate America is a life of isolation for Abu, it seems. But things change severely when he learns that the reason he hasn't been feeling well is because he has stomach cancer. Attempting to make amends with his mother, old friends, and paying off past debts, Abu doesn't inform anyone of his diagnosis. Instead, he leaves the city behind for upstate New York, and stops in the town of Pine Hill, where he goes hiking in the Catskills.
While the original short was apparently re-edited to serve as the opening of Welcome to Pine Hill, it does feel markedly different from the rest of the film. Harper, a non actor, actually met filmmaker Miller in a similar scenario and Abu is a character that shares a similar back story with the actor. Race and class relations intersect in the development of Abu's character as he tries to make a better life for himself, but never heavy handedly. Miller's film isn't meant to be a measure of either of these things, but treats them as matter of fact. One night in a bar, Abu has a heated conversation with another young white man, over ignorant comments pertaining to education, book smarts vs. street smarts, the result of unfair and biased preconceived notions. Abu has had to look past stereotypes and labels to make certain life changes, but those that haven't had to make the same sacrifices can't seem to comprehend their own ignorance.
But after we learn of Abu's diagnosis, every interaction feels weighted with added gravity, such as a brief interaction with his estranged mother, who remembers the hellion he was, reluctant to accept the fact that he's changed. He's started writing a blog titled, "This is Me: I'm Dying of Cancer," but sadly can't tell any of his old friends in a surprise visit, the focus stolen by resentments from the past that some of them still carry.
Through it all, Harper gives a startlingly authentic performance as a lonely soul who has left behind his past life and is all alone in his new one. A methodical, hypnotic final sequence may seem unfinished, but its poignant lull manages to briefly recall an essence of Walkabout (1971), where three youths in the Australian outback are engaged in a ritual of separation. Abu has already done that within the concrete jungle of New York, and now turns to another realm for a different rite of passage.