Peaks and Vallée: Witherspoon Eats, Prays, Hikes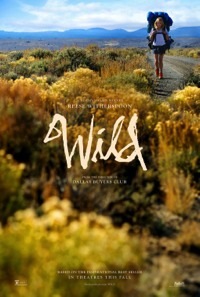 When Cheryl Strayed's memoir was released in 2012, the climate for gender politics was different. The book's popularity soared not only because it was endorsed by media giants such as Oprah, and that its cover was gender neutral, but because it was, simply, a relatable human story. Strayed's personal journey ends with her having no money, home, or romantic partner, and yet it's a happy ending. Reese Witherspoon is a revelatory as the brash yet broken central character in writer Nick Hornby's refreshing tome adaptation, while director Jean-Marc Vallée delivers both a sensorial and lyrical movie adaptation of Wild, which despite being written for the screen and directed by men, is feminist through and through.
It seems as though the scariest word in popular media these days is 'feminism'. Everyone from nubile It Girls to seasoned actors are quizzed about their feminist stance. "I am woman, hear me roar" has rapidly devolved into "I am woman, hear me timidly speak up on behalf of my gender worldwide". Even what is popular at the cineplexes epitomize Western society's skittishness towards female empowerment. Here we follow Cheryl (Witherspoon) as she travels somewhat ineptly alone on an 1100 mile hike across the Pacific Crest Trail, in a brazen journey of redemption and self-actualization following the untimely death of her mother Bobbi (Laura Dern). Almost as soon as she is dropped off at the beginning of the trail she discovers that she is unprepared for the trip, mentally and physically. With a knapsack that dwarfs her in size (lovingly dubbed "Monster") and hiking boots a size too small, her journey quickly unleashes nasty physical and emotional bruises. Using an elliptical timeline, Cheryl's intimate relationship with her vivacious mother is revealed slowly, as is her downward spiral masochistically using heroin and random men to numb the intense pain she feels following her mother's death from cancer.
The film is a deeply personal one for Vallée and Strayed, and it clearly shows. Following the recent death of his own mother, Vallée included additional playful scenes of Dern in order for her death in the film to be more powerfully felt. In Strayed's case, having her own daughter Bobbi (playing a young Cheryl) interact with Dern (who shares a resemblance to Cheryl), blurs the lines between reality and fantasy. As for Vallée, the subject matter is a natural fit into his filmography.
As a storyteller, he is drawn to narratives of fiercely independent lone wolves with non-traditional family ties. From the dysfunctional family in the exceptional C.R.A.Z.Y. to the fiercely loving mother, Jacqueline (Vanessa Paradis) in the underrated Cafe de Flore and even to the familial relationship of Ron (Matthew McConaughey) and Rayon (Jared Leto) in the uneven Dallas Buyers Club, Vallée's interest in reformative, family-centric arcs is familiar terrain.
As a filmmaker, he has the ability to seamlessly weave appropriate music (score and/or songs) into the narrative that propels the story forward without manipulating the emotions of the audience. In Wild, in addition to the use of the exact songs that reminded Strayed of special moments with her mother, Vallée brilliantly intertwines the repeated opening bars of Simon and Garfunkel's 'El Condor Pasa' as the stirring chords eerily echo Strayed's sense of loss and ache of longing.
Fans of the memoir will be pleased to see that Hornby remains faithful to the essence of his source material, removing unnecessary narrative strands including Strayed's estranged sister, her mother's abusive relationship with a younger man, and her own brief relationship with a man while on her trek, in order to ensure that the central core of the story (that of the love affair between Cheryl and her cherished mother) are the beating, broken heart of the film.
Technical aspects are superb, especially Yves Belanger's stunning cinematography and Martin Pensa's exquisite editing. Wild is a feminist journey worth taking.
Reviewed on September 8th at the 2014 Toronto International Film Festival – Gala Presentations Programme. 120 Minutes
★★★★/☆☆☆☆☆