Young at Heart: Paltrow's Sci-Fi Western is All Dried Up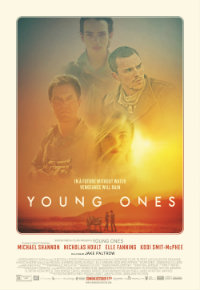 Dystopic draught heralds the end of times for the parable that serves as Jake Paltrow's sophomore effort, Young Ones. A mash-up of classic Western and ambitious sci-fi, the whole is not the sum of its parts, fluctuating between flashes of stylized visual flourishes in the midst of a quickly withering narrative, Paltrow seems to squander the abundant opportunities laid out by the promising set-up. It's this kernel of potential that makes the film seem even more of a disappointment, methodically churning into a stagnant trench of recycled Greek tragedy themes, a familial saga of vengeance, murder, and inheritance never coalescing into a comfortable stride.
In a world gone dry, surviving members of the human race do the best they can to eke out an existence. The oceans having evaporated long ago, families of farmers do what they can to irrigate the water they need for their lands, at least those that have the option, since anyone that used pesticides has barren soil. Single father Ernest Holm (Michael Shannon) raises his teenage children Mary (Elle Fanning) and Jerome (Kodi Smit-McPhee) by himself. A terrible car accident crippled their mother—she lives in town with the aid of advanced technology. With their well dried up, Holm needs to have water routed to his lands, but out-bidding a desperate neighbor, Flem Lever (Nicholas Hoult) on a robotic helpmate has dire consequences.
As broken up into three distinct chapters, Paltrow attempts to inject a novelistic and enhanced tone to Young Ones. As the screen fades out to blazing red and announces the titular figure of the segment, the film does evoke a certain sense of grandiosity, but it always fizzles out before reaching that project.
Giles Nuttgens' arid cinematography gets an appropriate look, while Nathan Johnson's hokum score gives the film a bit of flavor. But none of the three chapters is imbued with a sense of ownership for the eponymous character, instead feeling like a gimmick, an extraneous detail that does nothing for the film other than divide it concisely into thirds. More importantly, it doesn't help that Paltrow dispatches his most enigmatic cast member by the end of the first segment, replacing him with the growing tensions between its two young characters, with Hoult scene chewing his way through what should have been a much more menacing and layered performance and Smit-McPhee doing about the exact opposite. Shannon gives a moderated, subdued performance as a recovering alcoholic, and the film falters at his absence.
Somewhere in between them, Paltrow squanders another notable name, leaving Elle Fanning's angry trapped female to be quelled via pregnancy. She seems more than happy to stay in the house she's so desperate to get away from after her good news. Also, in a world doomed to dry by the wayside, the parched populace is not quiet realistically desperate enough—for many of the lives depicted here, life seems merely regressed to the saloon era of the Old West but with many having access to advanced technology that doesn't seem very logical, such as their mother's contraption that basically robotizes all her ailing parts.
A lot of intriguing ideas are at work here, but they're jammed around a vapid narrative making Young Ones unfortunately rather stale and narratively dehydrated.
★★/☆☆☆☆☆