Bullets Over Broadway: Inarritu's Vibrant, Exuberant Portrait Of Celebrity, Relevance, and Creative Passion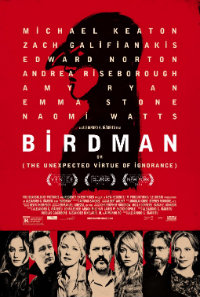 Not only is Birdman (or The Virtue of Ignorance) arguably the best film of Alejandro Gonzalez Inarritu's impressive filmography (from a list that includes Amores Perros, 21 Grams, and Biutiful), it's one of the most invigorating and passionately rendered films you could hope to see in this or any other year.
Exploding with a vibrant, restless energy, it's one of those films able to manage the tricky balancing act of melding a real life persona with an allegorical dress. At its base level concerning a has-been Hollywood icon desperately trying to get out of the mainstream rut he sank into years before with a creative comeback to showcase his talents, the parallels between Michael Keaton's career as Batman and another faded star with an avian-suited superhero background are, obviously, readily discernable, lending an immediate potency to the dark, and emotionally intermittent scourges that populate the film. But Inarritu's ambitious film goes to much more exciting lengths than simply the tale of a downtrodden man in last bid to make good on his name.
Riggan Thomson, once a matinee star for his stint as superhero Birdman in a trilogy of successful films, hasn't done anything else of relevance, viewed as a has-been who has exhausted his potential. Mounting his Broadway debut, a production of Raymond Carver's What We Talk About When We Talk About Love, which he adapted, as well as directs and stars in himself, he's just about to begin previews with a mostly consistent cast. An accident renders his co-star inoperable, which leads Lesley (Naomi Watts), also a film star making her stage debut, to invite her famous boyfriend Michael Shiner (Edward Norton) to take the role. However, Shiner is also a bit of an expensive handful, and Riggan has a lot of other stressors to worry about, such as the replaced actor who is threatening to sue them, much to the chagrin of his lawyer (Zach Galifinakis). Then, there's Riggan's daughter, Sam (Emma Stone), fresh out of rehab and working as her dad's assistant, and another actress Laura (Andrea Riseborough), who has been kind of dating Riggan and just discovered she's pregnant.
Inarritu has not only achieved one of the most delirious cinematic homages to the world of theater but one of the most technically impressive as well. In style and tone, it rivals studio era standouts like Twentieth Century (1934) or Lubitsch's To Be or Not to Be (1942), and more recent fare like Allen's resplendent Bullets Over Broadway (1994).
The blood, sweat, and ambitious gumption are all laid down in a whirling tableau of nooks and crannies, every cramped space a possible area for interaction. Inarritu utilizes Cuaron's regular cinematographer Emmanuel Lubezki, who rightly won on Oscar for Gravity. As stunning as his work was on that film, he brings the backdrop of the theater to life with a dazzling cinematic perspective. The camera moves lithely with actors, streaming down corridors with them, catching actions and emotions frenetically, aided significantly by the jazzy drum beat in Antonio Sanchez's energetic score. The film is moving, crawling, even, with passionate energy, leading to bombastic outbursts of emotion from its actors, all generally constructed as believable, organic forces even though many are tossed around in only a handful of scenes.
It's been a great year for the lovely Naomi Watts, reuniting with Inarritu from 21 Grams (2003). A Russian prostitute in St. Vincent and part of an uptight couple in Noah Baumbach's While We're Young, her insecure Lesley is a certain standout in a sea of names. Stage sequences where she's washed in stark, noir-ish grey with eerie red lamps lighting the background will arrest you—one of many moments we want to return to, revel in, and experience more of. Likewise, Emma Stone is arresting as Keaton's recovering addict of a daughter, Lubezki's camera magnificently catching her large, expressive eyes. She shares two standout rooftop scenes with Edward Norton (who hasn't been this lively in a long time) in what may be Birdman's only real lulls from whirling fury. And if the use of Lindsey Duncan's venomous theater critic feels a tad anachronistic, it allows Keaton to unleash a series of pointed and not untoward comments as concerns criticism; to create and realize a personal vision from start to finish takes passion and a certain madness while it takes nothing for a naysayer to flippantly tear something down.
The use of Raymond Carver as the subtext for Keaton/Riggan's is interesting as well (the film opens with the passage that graces the writer's tombstone), a writer in constant state of revision. Here, his work translated for the stage, we get multiple versions of the same text as we walk through Riggan's preview of the play. And thus, Inarritu is mixing this state of revision and growth with the energy of the stage, where performances are subjected to outside energies and influences.
But the real star here is a revelatory role for Michael Keaton, always a welcome presence, though wallowing, like many in the periphery of the modern world's interpretation of relevance. Bursts of external glances at Manhattan's bustling, frenetic streets right outside their cramped little world, such as a fantastic sequence where Keaton gets stuck outside after a cigarette break, captures the mad, inspiring energy of one the world's most beautifully creative cities (it was filmed mostly at the St. James Theater). Birdman is one of those rare films worthy of all the hyperbolic statements it's sure to generate, full of a lovely, weird energy that ends perfectly with a shot of a pair of wide eyes smiling.
★★★★½/☆☆☆☆☆